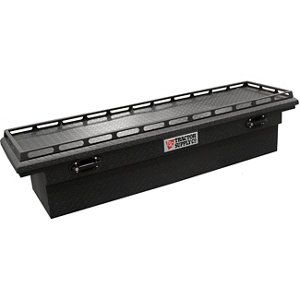 Features of Truck Tool Boxes
Truck tool boxes are some of the most versatile and handy pieces of equipment a truck owner can have. With the right truck tool box, back seats can remain free of debris and tools and available to passengers. Truck tool boxes keep tools dry, rust-free and in good working condition, and keep valuables safe while on the job or traveling. The best truck tool boxes come with some must-have features.
Materials
Just like trucks, truck tool boxes should be sturdy enough to carry thousands of dollars worth of tools while standing up to daily and sometimes hourly use. Tool boxes made of heavy-duty aluminum can take the wear and tear of the job sight even in places where rust can be a problem. Aluminum is also lighter than steel, so the box is easier to remove if you need more space for a load.
Weather Proofing
A truck box needs to protect its contents in all weathers, and that's why weatherproofing is so important. Look for boxes that feature high-quality weather stripping to keep out rain, snow and sand. And make sure the hinges and latches are made of stainless steel and are corrosion resistant for optimal protection
Box Design
Although truck tool boxes come in two designs- chest and crossover- the crossover models are typically more popular. This is because crossover designs hang from either side of the bed, leaving space under the box for long items such as paneling and sheetrock.
Locking Mechanisms and Ease of Use
Truck tool boxes house expensive equipment. That's why choosing a box with convenient and heavy-duty locking mechanisms is so important. A quality lock should operate smoothly and be easy to open and tight when closed. Gas hinges should work quickly and not be weak when opening the box. Latches should catch easily and not require excessive force to close.
Removable Trays
Truck boxes are deep, so choosing models with removable trays is important for ease of use and organization. Without trays and dividers, tools get lost and the risk of damage is higher. Removable trays allow users to divide tools by size and frequency of use, and that means getting what to what you need when you need it faster and easier.
Tractor Supply Co has a large selection of truck boxes to meet your tool storage needs. From crossover and chest models to underbody and topside boxes, we have the right box for you.