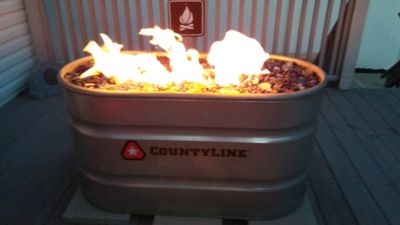 DIY Natural-Gas Stock Tank Fire Pit
We've seen people use Tractor Supply's CountyLine stock tanks as swimming pools, drink coolers & container gardens, but this is a first! Thanks to Rich Z. for sharing the natural-gas fire pit he built to keep warm during cool nights. His project was so successful he wanted to share how any backyard fire lover could do the same.
1. Steel Stock Tank
In addition to framing, I drilled 6 small holes in each corner to allow for air flow and gas dissipation should there ever be a build-up inside the tank. I also drilled a hole in the back for the ignition kit (e.g. the key that allows you to turn the gas on and off). I then drilled several holes in the bottom of the tank to allow for water runoff should the fire pit ever get wet (I also drilled some holes in the cement board, which I will talk about below).