Red Sex Link: Spotlight Breed
Provided by Hoover's Hatchery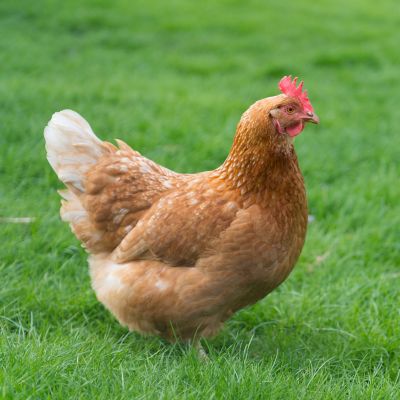 Nothing compares to the versatility, hardy-ness, or egg laying capabilities like the Red Sex Link. The Red Sex Link is also docile, making it adaptable to different environments. This hybrid chicken is not a heavy bird, so they are also great for coops. Whether you raise chickens in your backyard, or are a medium sized producer, the Red Sex Link will always be a great choice!
Flock owners have been crossbreeding chickens for centuries, but it wasn't until the mid-1900's that crossbreeding became more purposeful in making dual purpose hybrid chickens, and other crossbreeds like the Red Sex Link which was bred for its egg laying abilities and hardy-ness. Before the hybrid chickens became popular for their selected genetics, they were known as "mongrels" and were less desired because they weren't purebred birds. Now, the Black Sex Link and Red Sex Link chicken are desired because of genetic traits of their parents making the bird the best of both worlds and giving the flock owner more versatility.
Red Sex Link chickens are hybrid crosses that are color sex-able when hatched. The male Red Sex Links hatch with yellow feathers and the females will hatch with a buff or brown color, more resembling their father. The parent flocks of sex link chickens involve pairing two pure bred chickens both of different breeds, and they are carefully selected for the breed qualities to carry through into the next generation. Parent flocks of the Red Sex Link are Rhode Island Red males bred with White Leghorn hens. The Rhode Island Red is a hardy bird has outstanding egg production qualities, while the White Leghorn has high livability, and is a prolific egg layer. Both of these breeds are not heavy breeds, the Rhode Island Red is about 5 pounds at maturity and the White Leghorn is about 4-4.5 lbs. at maturity, making the Red Sex Link a smaller high egg production breed. All of these qualities in the parent flock make the Red Sex Link a great bird to add to any flock.
Feathering on this bird varies depending on the parent flock. Sex link chickens can be found in any hatchery across the nation. The unique quality about each one is that there are many different variations of the sex link chicken, most hatcheries have a slightly different parent flock. At Hoover's Hatchery, the Rhode Island Reds are bred with the White Leghorns to produce their version of the Red Sex Link, making the feathering of the Red Sex Link mainly red with white under color. Other under colors are buff, tinted or red, this of course depends on the parent flock of the sex link chicken. In some cases, the males and females grow up to be different colors, if this is the case, usually the male will be much lighter in color than the female.
The feed to egg conversion ratio on the Red Sex Link is excellent, making it a great bird if your goal is to sell eggs. Since the Red Sex Link is also docile in nature, they make great coop mates with other birds. Sex link chickens can be found in any hatchery across the nation. The unique thing about them is that there are different variations of the sex link chicken and each hatchery has their own version. They thrive and adapt in any environment you put them in, whether it's a coop, or free range. If simple flock ownership and egg production is your game, then the Red Sex Link chicken is your bird.
Unfortunately, all of the desired qualities in the sex link chicken will not pass on to the next generation. There are a few other downsides to owning sex link chickens. Their prolific egg producing rate has a tendency to last just one season, but it mostly depends on the bird and the environment that the sex link chicken lives in and production shouldn't drop significantly. The sex link hybrids are often not welcome at poultry shows because they are not a pure breed, but they win a blue ribbon in our book for their feed to egg conversion rate, temperament, and adaptability to different environments.
Overall the Red Sex Link chicken is ideal for first time flock owners and individuals looking for great egg producing birds. Their versatility, feed to egg ratio, temperament, and environment adaptability is unmatched. Many hatcheries carry the Red Sex Link and even though each hybrid might have their own minor differences due to slightly different parent flock from each hatchery, they all possess the same amazing qualities that make up a Red Sex Link chicken. Tractor Supply is proud to bring you the Red Sex Link chicken on our website, and in stores across the nation.