Zucchini Beef Skillet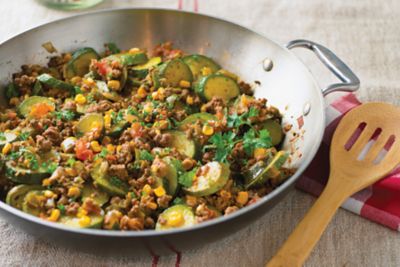 Submitted by Helen Moore
"This is great in the summer when you have fresh vegetables," writes Helen Moore, of Eminence, Ky.
Ingredients
1 lb. ground beef
1 cup onion, chopped
¾ cup green pepper, chopped
1 clove garlic, minced (optional)
1½ tsp. salt
¼ tsp. pepper
1 tsp. chili powder
5 cups zucchini or summer squash, sliced
2 large tomatoes, peeled and chopped
1¼ cup fresh, whole kernel corn
¼ cup parsley, chopped
Directions
Saute beef, onion, green pepper, and garlic in 12-inch skillet until well browned.
Add remaining ingredients.
Cover and simmer 10-15 minutes or until vegetables are tender.
Serves 4-6.