Battery Recycling | Spring 2013 Out Here Magazine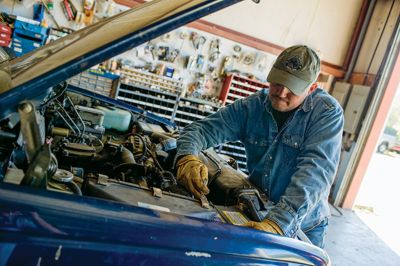 Battery recycling is convenient for customers and good for the environment
Raw materials from a single battery can be reused time after time
By Noble Sprayberry
Photo by Greg Latza
A typical car battery includes about 25 pounds of lead, two pounds of plastic, and about 10 pounds roughly a gallon of sulfuric acid.
Pitched in a landfill or illegally dumped in a ditch, a batterys components could break down into a toxic stew capable of polluting soil and groundwater.
Instead of an environmental threat, however, batteries represent a sweeping recycling success, one where raw materials forming a single battery can be reused time after time.
Its a remarkable story as to what goes on with spent batteries, says Bud DeSart, senior director of operations for Exide Technologies North American Recycling Group.
Seven companies in the United States operate 13 battery-recycling factories governed by increasingly stringent federal environmental regulations. Each plant uses a variation of the same system to turn spent batteries into base components for new batteries and other goods, DeSart says.
After a dead battery arrives at one of the recycling plants, a hammer mill goes to work.
Its like a meat grinder, DeSart says. A battery twice the size of a Thanksgiving turkey comes out with no piece larger than half the size of a cell phone.
From there, a system where lighter materials float and heavier items sink separates the various materials constituting the battery.
Recovered lead goes through a furnace for re-melting and further refinement. The process results in lead ingots weighing about 65 pounds, which are bundled and shipped for use in new batteries.
Similarly, recovered plastic is washed and melted before extrusion into pellets, which are then shipped to injection molding plants producing new battery cases.
Sulfuric acid is neutralized by mixing it with sodium carbonate. Afterward, the fluid flows through filters to trap solids and leave only a sodium sulfate solution.
Finally, a crystalizer boils off any remaining water to leave only sodium sulfate crystals, a salt, used in the textile, glass, and pulp paper industries, DeSart says.
Heres an interesting bit of trivia. In your grandmothers house, very old homes, you'd see imperfections like bubbles in the glass windows, DeSart says. Sodium sulfate eliminates those bubbles in the process of manufacturing glass.
Also, sodium sulfate is used in the textile industry, mainly to better affix dye to cotton fabric. There are literally thousands of tons of this product used for that, and a very larger portion of it comes from the processing of the sulfuric acid in a spent battery, DeSart says.
BIGGER INCENTIVE
The business of recycling batteries is not new, extending back decades. But, in the 1970s a change in federal regulations created what was known as a core charge, DeSart says. When you go in to buy a battery, you are charged a spent-battery fee if you dont bring back your junked battery, he says. This is to help promote the industry and to recover batteries that had been going to a landfill. Its almost like a deposit on a soda bottle.
The penalty could be as much as $10 or $15, giving consumers a practical incentive beyond just recycling to protect the environment to properly dispose of depleted batteries. He believes a large proportion of batteries were recycled even before the penalty, DeSart says.
As companies saw the financial potential of cradle-to-grave, total battery management, the industry became more professional and began marketing battery exchange programs to consumers.
We said, wed sell you a new battery but we want your spent battery back, he says. Then, we will adjust the price of your new battery based on the lead we will recover … and the prices were adjusted accordingly.
THE PRACTICAL BENEFITS
Batteries come in many sizes, ranging from those found in a lawn mower to huge batteries for submarines. Eventually, a batterys usefulness ebbs no matter the size, which results in about 130 million spent batteries annually.
Without recycling, production of those batteries would create a huge demand for raw material in a process fraught with waste.
The original lead comes out of a mine. You can imagine big dump trucks, motor graders, and mining equipment down in a hole in the ground 1,000 feet deep, DeSart says. Theyre bringing up this ore, but that ore is maybe only 5 percent lead by weight. But, theres 95 percent of dirt, shale, and other minerals or metals that dont get processed, and thats why you have these huge piles of material laying around old mines.
Thanks to the push toward recycling, about 80 percent of all lead used worldwide is recycled, with only about 20 percent coming from a mine, DeSart says. Whats great about this metal is that you can recycle it, recycle it, and recycle it, he says. It works just as well on the 10th time of recycling as it did on the first time.
Georgia writer Noble Sprayberry is a frequent contributor to Out Here.