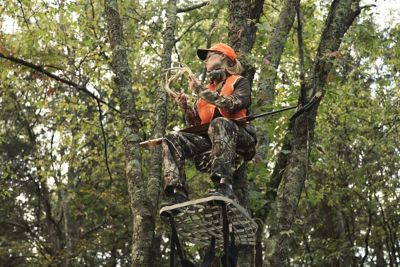 Tree Stand Heaters for Hunting
Hunting from a tree stand, whether during bow or rifle season, is a great way to bag a deer. Tree stands give hunters optimal views of the surrounding terrain and make observing deer movement easy. But climbing into a tree stand and waiting for hours when the temperatures are in the teens can be tough. Using the right heater while hunting from a tree stand can help keep your fingers warm and ready to pull the trigger or let the arrow fly when you've got the perfect buck in your sights.
Portable Propane Heaters
When it comes to warming a tree stand quickly and easily, portable propane heaters are the way to go for most hunters. The size of the portable propane heater you choose should depend on the size and shape of your deer stand. Tree stands that have a solid floor and are designed for more than one person can accommodate a portable heater that heats up to 200 square feet. This size heater uses one one-pound propane cylinders and can be easily carried up the tree stand ladder in a backpack. Attach the propane cylinder first for fast and easy use once in the tree stand. A portable propane heater of this size and type will heat 4,000 to 9,000 BTUs per hour.
Personal Propane Heaters
For deer stands designed for one person, a personal propane heater is a good answer for cold hunting days. This type of heater is about the size of a large flashlight and fits easily into a backpack. Personal propane heaters are designed for very small spaces and connect to a single one-pound propane cylinder. Use personal propane heaters at the base of your tree stand to keep your feet and seat warm.
Other Ways to Stay Warm
Along with portable propane heaters of different sizes, there are some other great ways to stay warm while hunting in a tree stand. Half-zip, camouflage sleeping bags are perfect for keeping the feet, legs and torso toasty while leaving arms and hands free. Hand warmers that stay in your pockets are an easy way to quickly warm fingers, and face masks and hats with flaps keep noses and ears protected from the elements.
Tractor Supply has several portable or personal propane heaters to choose from as well as a full line of cold-weather hunting supplies. From tree stands and vests to boots and rifles, we have everything you need to bring home a big buck this hunting season.