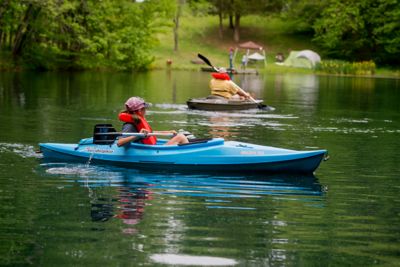 3 Things to Consider When Buying a Kayak
When it comes to hitting the water for both fun and exercise, nothing beats a kayak. Kayaks go where larger watercraft can't and provide a great low impact upper body workout. Kayaks are easy to transport with the right hardware, and are lightweight enough even for small vehicles. Kayaks come in one-person, two-person or fishing models, and are typically made of fiberglass, plastic, resin, wood or graphite, as well as inflatable options. Because kayaks are designed for how they'll be used, choosing the right one for your needs means answering three important questions: Where will you kayak? With whom will you kayak? How often will you kayak?
Kayaking Locations
Kayaks are some of the most versatile personal watercraft available and can be used in almost all bodies of water. But choosing the right one is important for the type of kayaking you'll be doing. If rivers, rapids and whitewater are your destinations, choose a whitewater kayak that's designed with increased maneuverability. These kayaks are shorter and have rounded bottoms or flat hulls, and are upturned at the end. If touring is more your speed, choose a long kayak with plenty of storage. Touring kayaks are sometimes called sea kayaks, but their increased stability makes them suitable for a day on the lake or cruising down a river. Downriver kayaks are often used for racing because they are long, narrow and move quickly through the water. Because they are less stable and tip easily, downriver kayaks are not a good option for beginners.
Kayaker Needs
Knowing who you'll be kayaking with is another important part of choosing the right craft. If you plan on kayaking solo most of the time, choose a design and model best for your own skill level and experience. The best kayaks for beginners are rugged and stable, making it harder to tip over. If you'll be kayaking with friends or family members who need a craft that's easy to get in and out of, consider a sit-on-top design. Sit-on-top kayaks are perfect for lakes and rivers and are self-draining. They also have more cargo space for day trips or destinations. They are also fast moving and straight, and give the kayaker greater control and maneuverability, which makes them a good option for more advanced kayakers.
Kayaking Frequency
How often you plan to kayak is another important part of choosing the right craft. If you live close to lakes and rivers and want kayaking to be part of your daily exercise routine, choose a craft that is lightweight and easy to transport. For daily or weekly kayaking, consider a fold-up model or inflatable kayak for easy storage and handling. Recreational kayaks are also a good option for frequent kayaking. Designed primarily for flat water or gentle rivers, recreational kayaks are not built for rapids or waves. Because of their limited storage capacity, recreational kayaks are also not recommended for long trips. Another option that brings together the speed of a sit-in with the control of a sit-on is a day touring kayak. Better in rough waters than a standard recreation craft, day touring kayaks are easy to transport and have a little extra cargo space.
Tractor Supply Co. has a complete line of kayaks, paddles and other gear to meet your kayaking needs. No matter your skill or experience level, we have the kayak for you.