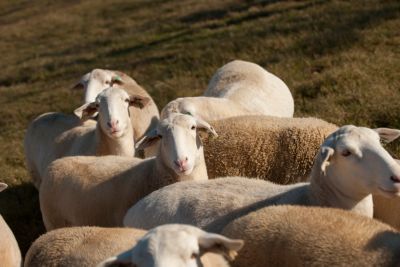 American FarmWorks® Electric Fencing Guide: Sheep
As docile and easily controlled animals, sheep do well when in an electric fence enclosure. There are two issues though. First, wool doesn't conduct electricity well and, second, predators will actively target sheep, even those protected by electric fencing.
With those concerns in mind, special care must be taken to set up an electric fence for sheep.
What you'll need:
Enough wire for 4 to 6 fence lines
Fence charger
Ground rods
Connecting wire
T-posts (if making a new enclosure)
Insulators
Fence line tensioner
Crimping sleeves
Appropriate fencing tools
Number of fence lines: The number of fence lines for sheep can vary from 4 to 6 depending on the following factors.
Expected fence lifespan
Predator concerns
Fencing lambs and ewes together
Best setup: Run at least 4 wires starting low to the ground. Space them out to evenly. The fence height should be between 32 inches to 40 inches. T-posts and aluminum wire are ideal.
Sheep areintense grazers that deplete vegetation in a pasture. When they do, they will try to reach vegetation outside a fence, which creates an entrapment concern. Your best bet is to set up a rotational grazing plan, which provides fresh grazing material combined with temporary interior fencing. These practices can minimize the risk to sheep as well as limiting the overgrazing of your pastures.
Fence Charger
Ideally, sheep need a fenceline that runs 4,000 volts to 5,000 volts. Note that in some areas, sheep are prey animals and may be hunted by wolves, coyotes or stray dogs. This means their fence is also used to deter predators. For maximum predator resistance, an electric sheep fence should carry a minimum of 5,000 volts.
Also remember that voltage levels can vary depending on the length of fence, the type of wire and if there's vegetation intruding on the fence line.
American FarmWorks® recommends purchasing a fence charger based on your fence's characteristics:
Low impedance fence chargers(((LINK))), which include all American FarmWorks® fence chargers, are best for heavy weed conditions, long fences and/or large animals.
Plug-in (AC) fence chargers(((LINK))), must be placed near a power outlet. They deliver continuous, inexpensive electricity to a fence. They are the best all-around chargers thanks to their reliability.
Battery-powered (DC) fence chargers(((LINK))), are ideal for remote locations that are regularly checked.
Solar-powered fence chargers(((LINK))), are ideal for remote installations where AC power is not available. They have self-contained batteries.
Note: Solid-state fence chargers were once an option for electric fencing. That is not the case anymore, and this style of charger is not safe for use. American FarmWorks® does not offer any solid-state charger options.