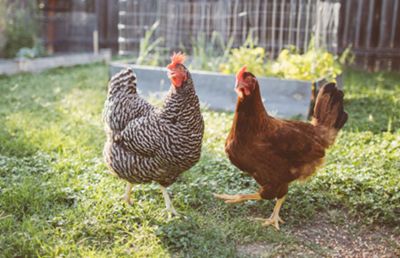 Egg Production: Feeding and caring for your egg-laying chickens
At four to five months of age, all that care and nutrition starts paying off in omelets and frittatas – your chickens are all grown up and laying their first eggs. Starting at 16 weeks or with the first egg, whichever comes first, it is time to gradually transition your flock to a complete layer feed. Layer feeds typically contain 16% protein and increased levels of calcium, a key nutrient for strong egg shells.
Picking a layer feed with high quality ingredients takes on added importance at this age, because whatever your hens eat passes through to their eggs – you eat what they eat! This is why there are several chicken feeds or supplements formulated with Omega-3s like Manna Pro Omega Egg Maker, which can be mixed in with your flock's complete layer feed. Medicated formulas are unusual for layer feeds, but some formulations will include probiotics to help maintain chickens' gut health and immunity. This is also the point where some chicken owners choose to move to an organic feed, which contains only non-GMO ingredients grown without the use of synthetic fertilizers or pesticides.
At this age, you may choose to provide chicken treats or scratch grains to help keep your birds entertained. However, be sure these treats don't discourage your hens from eating enough of their complete layer feed. Try to feed scratch grains after your pullets have already eaten their feed, and do not provide more than they can eat in about 15-20 minutes. Poultry grit should always be provided when scratch grains are fed, to ensure proper digestion.
Make sure to keep the nesting boxes clean – most hens hate laying eggs in a dirty environment and it keeps your eggs cleaner, too. Try to collect eggs twice a day at a minimum. Not only does this keep eggs from sitting out too long or getting dirty, but it can prevent chickens from pecking at their eggs. If your flock has gotten a taste for pecking eggs, collect fresh eggs even more frequently, and put fake eggs or golf balls into the nesting boxes. After a few tries of pecking an unpeckable egg, they are less likely to try to eat their own eggs.
Your mature chicken will likely lay 4-5 eggs per week, depending on the breed. But many factors affect how many eggs your hen will lay. Poor nutrition and extreme temperatures will reduce egg production. When summer heat is at its peak, consider adding electrolytes to your waterers to keep your chickens hydrated. Lighting also makes a huge impact. In nature, chickens only lay eggs in the spring and summer, so to encourage year-round egg production, you will need to provide supplemental light sources to trick your chickens into thinking they're getting the 14-16 hours of sunlight summer provides.
Chicken health is also a factor in egg production. Mites and lice are common parasites that are easily prevented. Providing a large pan full of sand in the outdoor run lets your flock give themselves dust baths that help knock these parasites loose from the skin. Respiratory illnesses are best prevented through good ventilation and strong sanitation practices, and segregating birds that show signs of illness.
Chickens that find themselves at the bottom of the flock's pecking order often stop laying eggs, too. If a hen is getting pecked to the point of bleeding, it is critically important stop the abuse. As horrifying as it sounds, an aggressive hen can literally peck another chicken to death! Ample space, roosting locations and food help prevent pecking. So can boredom-busting toys and treats. Consider hanging a cabbage for the hens to peck at instead of each other, or install an unbreakable baby or parakeet mirror to amuse them. If your space is large enough, use straw bales to create tunnels or different levels for them to explore. Like siblings, some hens peck at each other just because they have nothing better to do.