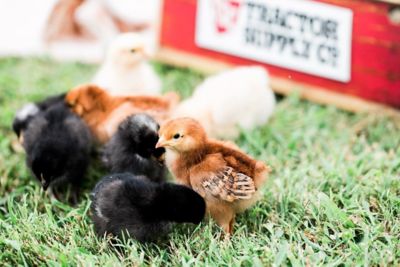 Thanks to Karen Keller Photography for sharing this image.
Chicks from Birth to 8 Weeks
Who doesn't love a day-old baby chick? Their soft fuzziness holds the promise of years of companionship and egg-filled breakfasts. But they are fragile, too - utterly dependent on you to help them survive and thrive their first few days. Fortunately, taking a few simple steps to prepare the right environment and provide proper nutrition will help them get off to a strong start.
Before bringing home your baby chicks, purchase a brooder or make your own with a large cardboard box or even a kiddie pool placed inside the coop. Make sure the coop has enough insulation to maintain a warm, even temperature from day to night, and provide a thick layer of large, clean shavings to insulate the floor. Baby chicks thrive best in temperatures of 90-95 degrees at the floor level. A heat lamp helps maintain a warmer brooder and lets you see if you are maintaining the right temperature. When chicks huddle close to each other and the heat lamp, they are likely too cold. If they're staying around the edges and far from the heat lamp, it's probably too hot for their comfort.
Although consistent warmth is the most important consideration for your chick housing, ventilation is a close second. Maintaining air flow around your flock is important to prevent buildup of odors or gasses and prevent respiratory illnesses. Adequate space is also important – by six weeks of age, your chicks will each need two square feet of space to call their own.
Dehydration is common in baby chicks, especially those shipped through the mail or transported long distances. Jar waterers work well when filled with cool, clean water, and should have at least one gallon of capacity per 10 chicks. If your chicks have not yet encountered a jar waterer, dip their beaks in the water until you see them swallow to help them find their water source and get that first hydrating drink.
Next up is nutrition. Starter feeds are specially designed for the nutritional needs of chicks from birth to 8 weeks, and should be fed free-choice from day one. It may seem kind of early for "solid food," but your chickens will reach full maturity in less than 5 months! Provide enough chick feeders to give each bird at least 3 inches of space to ensure they have room to get to the feed.
Starter feeds typically contain 15-20% protein, because protein is essential for weight gain and muscle development in the first weeks. Be sure to look for vitamin and mineral fortification that ensure your chicks are getting the essential nutrients they need to develop properly and maintain their health. Because each formulation is unique, always follow the feeding instructions on the back of the bag to ensure proper nutrition and the right time to change to the next feed formulation.
Most manufacturers, like Manna Pro, will offer both medicated and non-medicated formulations of starter feed. Deciding between the two is a personal choice. Medicated starters contain Amprolium or other anticoccidial drugs that help prevent Coccidiosis, an often-fatal disease caused by parasitic protozoa. Other owners prefer to use a non-medicated starter feed and address Coccidiosis risk through strong sanitation practices, like cleaning chick housing thoroughly between flocks and immediately segregating any birds that show signs of illness.
Sanitation is important no matter which feed you choose, for the health of your chickens and your family. Chicks can carry Salmonella and their feces can be a source of E. Coli. Always wash your hands thoroughly after handling your chicks and supervise children's hand washing to ensure your family stays as healthy as your well-cared-for baby chicks!