'GARDEN HEROES'
Earthworms enrich garden soil from beneath the surface
By Jodi Torpey
Photography from iStockPhoto.com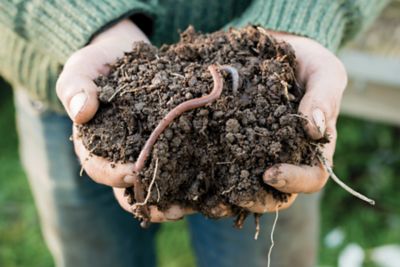 Many gardeners work to create pollinator-friendly landscapes for bees and butterflies, filling gardens, containers, and fields with colorful blooming plants that provide nutritional nectar and pollen. But few put in the same amount of effort to attract earthworms to their flower beds, vegetable gardens, and lawns. That's unfortunate, because they're an important part of a healthy and dynamic ecosystem hidden beneath the soil's surface.
Earthworms are the garden heroes that do the dirty work. They eat soil and dead and decomposing organic matter and leave behind a rich fertilizer that some call "brown gold." Worms survive and thrive on the nutrients they get from eating microorganisms, such as bacteria and fungi. They also eat harmful microscopic nematodes that can damage plant roots. These beneficial wigglers build the soil that supports just about everything we plant and grow. It pays to have teams of worms working the soil because they build the foundation that supports plant growth. When worms get to work, they create a better soil texture, improve the structure of the soil, allow air and water to reach plant roots, and make the soil more fertile.
As earthworms eat and digest soil and organic matter, they can produce their weight in manure — called castings — every 24 hours. These nutrient-rich castings add nitrogen, phosphorus, potassium, calcium, and trace minerals, such as zinc and boron, to the soil. Castings also encourage beneficial microbial activity that continues to build a healthy soil ecosystem.
Worms aren't picky eaters, but they have a more discerning taste when it comes to their environment. Here are some tips for making their living conditions more hospitable:
Build a loamy, well-draining soil.
Water or irrigate enough to keep the soil moist, but not soggy; avoid letting the soil dry out.
Refrain from deep digging or soil tilling that can bring worms to the surface where they're exposed to hot and dry conditions, and where birds can find them.
Provide plenty of food, such as lawn clippings, compost, manure, cover crops, and other organic matter.
Aim for a neutral pH instead of an acidic soil.
Moderate soil temperatures with mulch to keep above 50 degrees but well below 90 degrees.
Avoid exposing worms to pesticides or choose those least toxic to earthworms.
When weighing options for managing a rural or urban property, always consider the impact to the living soil that lies below. Because earthworms are such an important part of the soil food web, it makes sense to pay special attention to their care and feeding. They might not be as beautiful as butterflies, but they're certainly worth their weight in brown gold. ★
Jodi Torpey is a gardener, writer and author in Denver who rescues wayward worms and re-homes them in flower pots and vegetable beds.