Lavender Farming
By Carol Davis
Photography by Greg Latza
As Bruce McCloskey ties a rubber band around the handful of French lavender he just cut and tosses it gently into a growing pile, he takes a quick glance around the lavender field at his family.
It's an idyllic setting: acres of vibrant purple lavender plants blooming at the foot of the scenic Olympia Mountains.
Bruce's young granddaughter, Harper, is helping to fill the small trailer with cut lavender; his wife, Bonnie, is cutting stems and guiding Harper around the large plants; daughter Kristy Hilliker is cutting while keeping a close eye on her toddler, Sawyer; and son-in-law Zion Hilliker cuts while explaining the process to a visitor.
For Bruce and Bonnie, this scene is a dream come true — having family close by and creating a lavender farming partnership that allows for plenty of togetherness. Their B&B Family Farm is about lavender and making a living.But mostly, it's about family.
'We're In'
It wasn't that long ago that the McCloskeys and the Hillikers were immersed in vocations that didn't have even a hint of farming.
Bruce was winding up a 30-year career with the Colorado Division of Wildlife; Kristy had become a new mother, so she stepped away from her interior and furniture design work to teach design at a San Diego, Calif., college; and Zion was working long hours as an account executive for an office furniture manufacturer.
The McCloskeys' oldest daughter, Amy Miller, had moved to Port Angeles, Wash., on the Olympic Peninsula, and Bruce and Bonnie were looking to leave the Denver area after retirement. They liked the Port Angeles area and wanted to be close to their grandchildren.
They soon approached Kristy and Zion — who had recently had their first child — about relocating from San Diego and creating an income source by farming together.
For Kristy, the birth of Harper was reason enough to make the move. "It puts a whole different perspective on family and what's important," she says.
"I loved the idea of the kids getting to grow up with their grandparents and being close to my sister and her kids," Kristy says. "It seemed a perfect way to raise a family — the whole generational wisdom and the kids keeping the old ones young."
Zion was open to the idea because he was frequently working 12 and 13 hours a day and missing time with his newborn daughter. "Kristy and Zion said, 'We're in,' and we haven't looked back," Bruce says.
The move five years ago from bustling San Diego to slower-paced Sequim (pronounced Skwim) was an adjustment, the couple agrees, but it was the best thing to do.
"Gosh, it's been better than I ever thought," Kristy says. "Sometimes we miss San Diego and we miss the city … but we've gained so much more."
"We just couldn't be happier," Zion agrees. "With my kids, it's fun to be able to play with them every single day."
Lavender Capital
Sequim may be just 68 miles from Seattle, but the climates are like night and day. While Seattle gets 50 inches of rain annually, Sequim gets only about 15 inches. "We're in the rainshadow of the Olympic Peninsula," Bruce explains.
The Olympic Mountains act as a barrier, protecting the northeastern Olympic Peninsula, where Sequim is located, from the bulk of the rain that moves into the Pacific Northwest.
The resulting drier climate is perfect for growing lavender and here, it grows in such abundance that Sequim is the Lavender Capital of North America. The annual Lavender Festival held each July attracts thousands of festival-goers from around the world.
So when an established lavender farm came up for sale, Bruce and family jumped at the chance to raise the region's premier crop.
"This farm came on the market and we fell in love with the barn," Bruce says. "We didn't know anything about lavender but the previous owners, who started the farm, were glad that a family bought it."
The previous owners also taught the new owners how to grow and sell their harvest and the McCloskey-Hilliker family became farmers quite easily.
"As much as I didn't know about lavender and as much as I didn't know about farming … being here makes farming easier. We're in the right area for lavender farming and it makes us look like we're really good farmers," Zion says, with a laugh. Of the farm's 12 acres, four are in lavender, totaling just under 10,000 plants.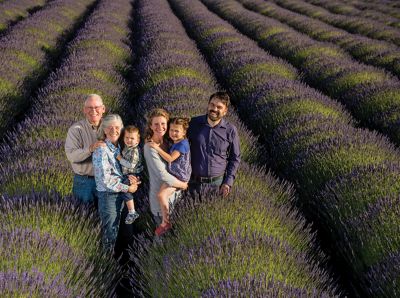 B&B grows two kinds of lavender — French, which comprises about 60-70 percent of its harvest and is used for sachets, potpourri, and essential oils, and English, which can be used for cooking.
All lavender is cut by hand. Cutters will grasp a large handful of stems, cut a few inches above the plant's woody growth, and secure it with a rubber band near the bottom of the bunch.
Harvested lavender is taken to the barn where the bunches are arranged and hung for two or three weeks, until they've dried. It's then put through a de-budding machine, which, essentially consists of two chimney brushes rotating opposite ways to strip the stems of the buds.
The large bins of fragrant buds are sold wholesale to craft stores and other distributors.
The Right Skills
The leap into farming has been "better than expected," Bruce says.
Besides giving tours to visitors, each of the four business partners has specific work for which they're responsible. "My job is to grow lavender and get it hanging in the barn," Bruce says.
Kristy, with her design expertise, focuses on the on-site store, social media, the farm's web page, and advertising. She and her mother manufacture such products as lavender soaps, creams, and sachets. Bonnie also works in the store and watches the grandchildren.
Zion brews pure, undiluted lavender oil from fresh plants — the farm's best seller — and he's taken such a shine to it that he's won several awards for the quality of his oils. He also handles the online store.
Daughter Amy is not a partner in the farm, but she's frequently on hand to help when they're short-handed.
"Dad comes with an experience and wisdom of the professional world, and Zion and I are from a different generation and we know technology," Kristy says. "To have both of those things to run a business is ideal."
Also ideal is the togetherness and contentment that this scenic lavender farm has provided for its farmers. "It can't be any better than this," Bonnie says. "The fact that my family is all here is the best part of the whole thing."