Perilous Plant
By T.L. Dew
Foxtail, those wispy, tall plants often seen swaying in the breeze in a sunny pasture during late spring or early summer may look harmless enough, but they can hurt your horse.
In fact, if your horse has lost interest in eating or begins losing weight, foxtail may be the culprit.
The perilous parts of the plant are the prickly, barbed bristles near the seed head that can become embedded inside the soft tissue of the horse's lips, tongue, and gums. They can cause blister-like sores that actually are mouth ulcers that, left untreated, can become quite serious and painful, says Dr. Jennie Ivey, an assistant professor and extension equine specialist at the University of Tennessee.
Occasionally, the bristles cause pain in the esophagus or stomach as they travel down the gastrointestinal tract.
A veterinarian may need to be consulted.
"It's really when the seed head becomes mature," Ivey says.
Horse owners should regularly check their horses' mouths for the seed head bristles, which can easily be removed, Ivey says.
Left unchecked, a seed head boring into the horse's mouth can painfully fester and discourage the horse from eating.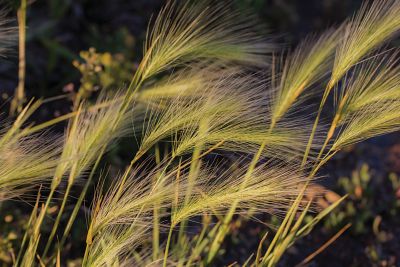 Prevent horses from ingesting the foxtail seed heads by looking through hay bales before feeding, especially when a new supply of hay arrives, she advises.
Reputable hay producers are aware of the foxtail concerns and practice good pasture management. However, foxtail can be difficult to eliminate.
"We don't really have any herbicide to completely remove foxtail from the field," Ivey says. And, no field can ever be 100 percent weed-free, she says.
Instead, hay producers must rely on timely mowing of the pastures and cut down the foxtail before the seed head matures.
Horse owners uncertain about the presence of foxtail in the hay they are feeding their animals, Ivey says, can always turn to their local agricultural extension office for help with pasture management and weed identification.