Growing Garlic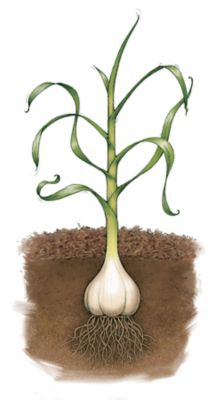 Plant bulbs for a flavorful, versatile, and medicinal crop
By Laurena Mayne Davis
Illustrations by Tom Milner
Now's the time to plant a vegetable in your garden that next summer will yield three healthy and tangy crops: the leaves, stems, and bulbs of garlic. Garlic is a versatile and savory food with beneficial medicinal qualities. It has been found to control blood pressure, lower bad cholesterol, and keep cold viruses at bay. If you think of garlic as only the dried powder clumped in a plastic bottle in the spice rack, you're missing out on a world of cooking options. Not only is garlic easy to cook, it's easy to grow, too.
For more than 38 years, Donna and Les Abel of Michigan Garlic Farm, in Pinckney, Mich., have propagated a variety with a purple stripe they've named "Northern Jewel." The fist-sized, hardneck garlic has a "little bit of a kick, but a really nice garlic flavor," Les says.
The Abels experimented with a few others, but liked everything about Northern Jewel: large bulb, complex flavors, and beautiful color. Now, with a crop of 35,000 bulbs, that's all they grow. "Years ago an old fellow, a good friend of mine, told me if you're going to do something, then do one thing and do it well," Les says. "We went from having a vegetable garden to having a garlic garden."
They recently planted this year's crop and will harvest some of the garlic in spring as "green garlic," which is an immature plant, with an undeveloped bulb. Prepared and eaten like a green onion or scallion, "the whole thing is edible because it's very, very tender," Donna says.
Plants not pulled for green garlic will bolt in mid-summer, sending up long, curling stems. These stems — the scapes — sway and dip, swanlike, in the wind. "When you can see one or two acres out there dancing, it's pretty cool," Les says.
Scapes have the consistency of asparagus and can be prepared in the same ways: stir-fried, sautéed, chopped fresh in salads, or grilled. Once scapes are removed, plants put their energy into developing larger bulbs, which are ready for harvest in late summer.
"I think the main misperception about garlic that people have is they don't realize they can grow it," Donna says. "We've had people buy garlic from us one year, and they come back the next year holding a handful of garlic, grinning from ear to ear, because they've finally been able to grow garlic."


HOW TO PLANT
The key is to plant the right type of garlic — either hardneck or softneck. Hardnecks, like the Abels grow, do well in cold climates. They need several weeks of very cold temperatures to thrive. Softnecks, on the other hand, grow better in milder climates.
Softnecks also do not bolt, meaning they don't send up a scape and therefore don't have a stem in the middle of the bulb. Instead, there are more cloves throughout the bulb. Softnecks typically have a milder flavor and store longer, too.
Garlic can be planted into late fall and winter as long as the ground can be worked. It's the same timeframe as planting fall flower bulbs, such as tulips and daffodils. Because there is a direct correlation between the size of the clove planted and the size of bulb that will develop from it, Donna offers a simple rule to divvying cloves: "Eat the small; plant the large," she advises.
Garlic likes loose, well-drained soil, with organic matter. Separate cloves in the bulbs, leaving the papery covering intact, and plant cloves, pointy-side up, about 3 to 4 inches deep, 6 inches apart, in rows spaced 12 to 16 inches. Cover with another 2 inches of mulch, such as straw, leaves, or grass clippings. Some nine months later, bulbs will be ready to dig up when about half the leaves are brown, the other half still green.
Bundle and hang the entire plants in a shady and well-ventilated area to cure for a month. Then trim root ends, cut the bulbs from stalks and store in a cool and dry place, but don't refrigerate them. "Garlic is always alive," Les explains. "Treat it like it is alive. Each piece of a garlic plant, from the bulbil (seed head on a scape) to the clove, is a host of a new plant and a clone of itself. Each piece is always wanting to grow. Treat it the way you would treat yourself, with low humidity and a comfortable temperature. Don't put it in the refrigerator because you couldn't sit there very long, either."
The Abels offer detailed planting and storing directions at their website, michigangarlicfarm.com, along with unique recipes, such as Garlic Scape and Almond Pesto. Garlic is more than an afterthought to be sprinkled on food, Les says. "People don't realize it's a vegetable," he says, "not an herb."
Colorado writer Laurena Mayne Davis now plans to put in her own garlic patch this winter.


HARDNECK OR SOFTNECK?
Garlic comes in two main types — hardneck and softneck — and which one you plant depends on the weather where you live. One rule of thumb to know which type to plant is provided by Burpee. If you live where cool-season lawns are common, such as bluegrass and fescue, plant hardnecks. If warm-season lawns do better, such as zoysia and bermuda, plant softnecks. Then there are overlap zones where both will do fairly well.
Still not sure? You can always ask other gardeners in your area or check with an extension agent. Or just plant a variety and see what works best for you. There's fun to be had in your own experimentation.


GARLIC FUN FACTS
Most of the garlic sold in grocery stores is softneck garlic, which may not be the right garlic to plant in your garden. Because it does not need to be hand planted, softneck garlic is more economical to grow on a large scale. Softneck cloves will right themselves, no matter what direction they're planted. Hardneck cloves must be planted pointy side up, which is root side down.
Elephant garlic, which has a very mild flavor, is not garlic, but a leek.
Hardneck garlic and garlic scapes were found in a tomb from the 18th Egyptian dynasty, some 3,500 years ago.
The Spanish brought garlic to North America.
"Russian penicillin" was the nickname for garlic during both World Wars, due to its use in treating infections, particularly gangrene.
— From the Michigan Garlic Farm, Pinckney, Mich.