Fly Control | Summer 2014 Out Here Magazine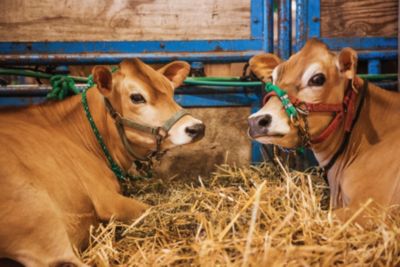 Best pest management starts early
By Heather Smith Thomas
Photography by iStock
Flies are a real health risk to livestock, so it's crucial to get them under control early in the season and then stay vigilant throughout the warm months as their numbers grow. Biting flies cause pain or irritation, disrupting the animal's grazing. Some flies carry disease from one animal to another; face flies spread pinkeye in cattle; and horse flies, also known as deer flies spread blood-borne diseases such as anaplasmosis in cattle and equine infectious anemia in horses.
Livestock bothered by flies don't eat well, and large numbers of biting flies can consume so much blood from the animal that its growth, weight gain, and milk production are reduced. Different flies have different habits. Houseflies, also known as stable flies, breed in rotting organic matter such as old hay and bedding. Horn flies breed in fresh cattle manure. Horseflies, also known as deerflies, breed in swampy areas and black flies breed in flowing water often miles away from your farm, making it impossible to control at breeding sites.
But there are steps you can take to keep flies from annoying and harming your livestock. Horn flies spend most of their time on cattle, so applying insecticide to the animal, such as through ear tags or back rubbers placed in entryways to water or mineral feeders, is effective. Houseflies/stable flies, which are aggressive biters, can be reduced by diligent cleanup, such as getting rid of buildup around bale feeders in the spring and not letting manure or old hay and bedding accumulate, thereby removing their breeding sites. Manure and wasted hay should be spread thinly for quick drying, or composted. Properly composted material gets hot enough during fermentation to kill fly eggs and larvae.
Texas A&M University research also shows that debris around big bale feeders makes an ideal breeding ground; the area around one feeder can produce more than a million stable flies. Before flies emerge, move feeders and thinly spread wasted hay so it will dry, or scrape it into a pile to start heating and composting. Parasitic wasps also are effective in controlling houseflies/stable flies by keeping their larvae from hatching. These tiny wasps, which can be purchased for this very purpose, lay eggs in manure and their larvae destroy fly larvae by feeding on it. Parasitic wasps can reduce fly larvae by 90 percent if you diligently reduce breeding sites, put out enough wasps to inhabit what's left, and release more wasps every 30 days or so through the summer, depending on the number of livestock. Wasp suppliers recommend releasing the first batch before flies become numerous.
Some farmers add products to grain that kill or keep larvae from maturing. Others farmers spray areas of manure buildup to kill immature flies; however, that method tends to develop resistance in flies. It also kills beneficial insects such as predator wasps and dung beetles, which help control flies. An active population of dung beetles can bury or destroy 95 percent of horn fly eggs and larvae. Even if eggs hatch, they can't get back to the surface after dung beetles bury the manure.
Some flies are difficult to control with insecticides and manure management. Horse flies and deer flies attack quickly and leave, so most topical insecticides may be ineffective. You may want to hang flytraps. Despite the pest control method you choose, start it early and do it often. Your livestock will thank you for it.
Heather Smith Thomas has written several books on livestock care.