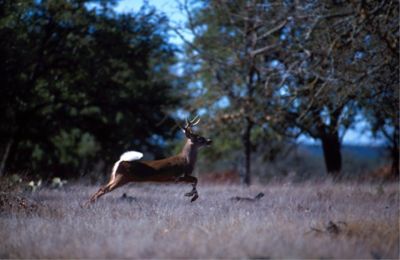 Three Ways to Bait Deer
For many deer hunters, baiting is the best way to bring in the bucks during hunting season. According to state DNR's, deer bait is considered any substance made of grain, fruit, salt, minerals or other foods that may entice or attract deer during hunting season. Deer baiting laws vary by state and may be restricted by dates, county or the type of bait used. It's important to follow all DNR guidelines for baiting deer in your area, or else face hefty fines and even jail time. Along with actual deer bait, there are other ways to attract deer to your hunting land and keep them there year-round. Choosing plants that provide cover as well as nutrition keep deer coming back season after season.
Planting
Deer like plenty of forage for grazing, especially in the fall when they're putting on weight for winter. Planting perennials in spring and summer annuals in late spring draw the deer in. As the summer annuals die away, deer love cereals grains, like oats and corn, as the fall frosts bring up their sugar content. Deer enjoy grasses like chicory, orchard grass, as well as sorghum and buckwheat, and high protein peas and soybeans, along with alfalfa and kale. Line the perimeter of your deer plot with crab apple or regular apple trees as an added draw, and make sure to offer deer plenty of cover with native grasses that grow tall, like switchgrass or bluestem. Consult with your local farm extension while planning your deer plot for soil testing and to make sure you're adding the right plants for your area.
Sugar Beets and Apples
Like most people, deer love a sweet and tasty treat. That's why sugar beets and apples are two of the best deer baits available. Sugar beets can be offered whole, as a planting in a deer plot or in crushed or compacted varieties. The same is true for apples. Deer apples and sugar beets are available by the bag, or from farms and orchards in the autumn in areas where hunting is popular. Deer aren't too picky about how you offer them beets and apples, but piling them up can lead to rot, and smart bucks may be suspicious of a large pile of forage, especially if it's near a bedding area. Spreading out the bait in a larger area rather than piling it up in one place increases the number of deer that can get access.
Deer Corn
Much like sugar beets and apples, corn is a great option for baiting deer. Deer corn comes in whole-kernel, on the cob or as cracked corn, and is typically sold in 40 to 50-pound bags. Deer corn is also available by the bushel in locations where corn is grown and sold directly to hunters. No matter where you get your corn, as with other types of bait it's important to spread the feed around in a way that looks natural. Corn can be scattered much like acorns drop from trees or placed in an automatic feeder and scattered throughout the day. In some states, it's illegal to place deer bait in bedding areas, so it's important to locate all deer bedding spots in or near your hunting sites so you're not doing anything that is against the law. Locating bedding areas is also helps you choose a place for your deer stand that has lots of deer traffic.
No matter the season- bow, rifle, muzzleloader- or the kind of bait you choose to use, Tractor Supply Co. is your one-stop shop for all things deer hunting. From clothing and deer stands to feeders and bait, we've got what you need to bag a big one.