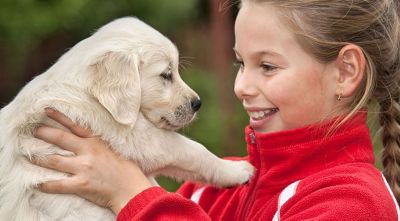 You're Getting A Puppy, Now What?
You've made the big decision to add a four-legged member to the family but you're worried about their transition to your home. Here's list of dos and don'ts for preparing your home for puppy life.
DO Puppy Proof Your Home
One of the cutest things about puppies is their inquisitive nature. However, this cute personality trait fades when you come home to find your favorite pair of shoes shredded or your flower vase shattered. Before bringing a puppy into your home, be sure and knock out this checklist:
Put away all floor plants, decorations, shoes and breakables at the puppy-level. If you're not sure what exactly the puppy-level is, lay on your stomach on the floor and remove anything valuable at eye level.
Secure hanging materials such a tablecloths, runners and drapes. It only takes one good tug for everything to come crashing down.
Put away objects on low furniture such as coffee tables and ottomans. While they may be safe the first few weeks, it's only a matter of time before your pup learns to climb or develops a wild, swinging tail.
Secure all wires. Nothing says chew me quite like a tangle of wires in the corner. To keep your puppy safe, secure wires by placing covers over them or removing them completely.
Clean your back yard. Inevitably curious, puppies are sure to find interest in any and all lawn ornaments or garden gnomes on your property. It's a safe bet to keep them out of reach while you're training them which objects are toys and which are not.
Check your fence and patch any holes. If there is a weak spot in your fence, you can bet your new puppy will find it and do all he can to squirm through and chase that scent.
Put away and secure all chemicals and fertilizers. Hazardous to your new addition's health, be sure to secure materials like paint and cleaning products as well as chemicals and fertilizers .
DON'T Forget to Acquire Puppy Basics
Taking your puppy from its brothers, sisters and mother for the first time is a challenge in and of itself. Don't arrive home and realize you need to hightail it back to town for a water bowl. Some of the basics include:
Chew toys
Collar, leash and harness
Grooming Supplies
ID tag
Crate or puppy gate
Bed or blanket
DO Prepare the Perfect Puppy Oasis
Naturally, your puppy is going to need some time to fully transition into its new home. Set them up for success by having their living quarters fully set up before you two arrive.
Have all your puppy basics organized in one place. Keep food and treats tucked away but toys at their disposal. You'd rather have them playing with their toys than yours.
Place their bed where you intend on having them sleep on a regular basis. As tempting as it is to bring your new bundle of joy to bed with you the first few nights, the sooner you get him into his own bed the better off he'll be.
Designate a place for your new pal to use the restroom. This will be priority number one when you arrive at home. When puppies are left to their own devices they tend to go wherever their noses lead them, which is almost always in the middle of your favorite area rug.
DON'T Forget to Delegate Puppy Responsibilities
This last tip is often overlooked and should be discussed sooner rather than later. Naturally, your new puppy is going to need a feeding schedule, obedience training and potty breaks. Making sure your family is on the same page and responsibilities are delegated properly. Things to discuss with your family include:
Feeding schedule. It's easy to overfeed your small pup, make sure you are giving them the proper proportions and at the right time.
Potty breaks. Small puppy, small bladder. Avoid accidents in the house by staying on top of potty breaks. Also, consistency here is key to helping the dog learn where and when it's appropriate to use the restroom. Take them to the same spot each time when you're starting out.
Scheduling vet visits. A new puppy will need to be vaccinated and undergo check-ups to make sure they are in prime health. Be sure to schedule these visits well in advance and as needed.
Deciding on which command words will be used. Obedience training is most effective when applied consistently and at a young age. Keep a list of commands written down and placed where the entire family can easily read them.
Following this list of dos and don'ts is sure to keep both you and your pup happy and healthy during the transition. Click through to our site for dog food and other puppy basics. Plus, if you're still debating which breed is right for your family, check out our list of most popular dog breeds.