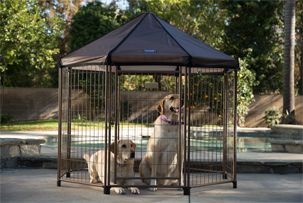 Dog Kennels
Most dogs, whether inside, outside or a little bit of both, enjoying a cozy place to call their own. Dog kennels keep dogs protected and contained while providing them a sanctuary away from people or other pets. Kennels come in a variety of sizes and shapes depending on the dog being housed, and kennel accessories help you create a just-right environment for your pet. But how do you choose the right dog kennel for your yard or small farm? The following tips will help get you started:
Measure Your Dog
Dogs like spaces that are cozy but not cramped. To pick the just-right indoor kennel for your dog, measure them from their nose to the base of their tail while standing. Then have your dog sit and measure them from the floor to the top of their head. Add 4 inches to each of these measurements for the perfect size kennel for your furry family member. The extra 4 inches gives Fido enough room to move around and change positions. Large spaces make dogs feel unsure, so the extra inches also help them feel their kennel or crate is a safe place.
Outdoor Kennel Basics
When planning an outdoor space for your dog, use the same measurement direction as above for the dog house you'll add to the kennel as their place to sleep, get warm or just hang out. The outdoor kennel should be large enough to hold a dog house while letting your dog stretch their legs and have room to play. The kennel should be located in a spot in your yard that gets at least partial shade during the day. Set your own posts in concrete and surround with chain-link fencing, or choose a kennel kit that comes with a panel system for easy installation. If your dog is a digger, you'll need to surround the base of the kennel with chicken wire secured with rocks, bricks or wire anchors. If they are a jumper, an attachable roof will keep them from being tempted to clear the fence and bolt. Kennel roofs are also important if your dog lives outside most of the time. Roofs provide additional protection for your dog and their dog house from rain, snow and ice.
What Materials?
Plastic dog kennels are easy to care for and usually come with a convenient carry handle for transporting your pet to and from the vet, dog park or on a family vacation. Plastic kennels are durable, washable and usually made from bacteria-resistant material. Plastic kennels are a good choice for toy, small and some medium-sized dogs. But if your dog is large, easily excitable and doesn't settle quickly in their kennel, a metal kennel is a better option. Metal kennels are sturdy enough to hold up against dogs that lay down hard or lean against the sides of their crates. Metal kennels also have better ventilation than plastic kennels and allow your dog a 360-degree view of their outer surroundings.
One other option is a soft-sided kennel. These kennels are good for travel or occasional use and are not recommended for dogs weighing over 50 pounds. Soft-sided kennels are a great option toy varieties or small dogs.
Play Yards
Portable play yards are a type of kennel that can be used indoors or out when you want to limit your pet's access to certain areas. These plastic or metal fences are free-standing, collapsible and easy to move around. Perfect for puppy training, use play areas to increase your puppy's roaming space as they potty train and to give them a safe place to play while their teething.
Whether inside or out, Tractor Supply has over 200 kennels, crates and containment accessories to keep your pet happy and safe.