Feeding Felines
By Leah Call
Cats have their own very specific dietary needs.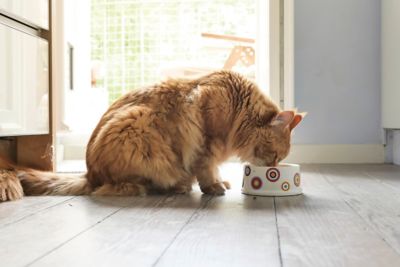 All cats come running when it's feeding time. But the dietary needs of those cats can be as individual as the cats themselves.
"Cats are obligate carnivores. That means there are certain nutrients that a cat has to have that only come from animal sources," says Dr. Annette Cowell, veterinarian and owner of The Cat Clinic in Stillwater, Okla.
"And they do have clear dietary preferences," she says. "So, unlike dogs that are omnivores — that can get by eating an assortment of things — cats can't do that."
While all cats need protein and fats in their diet, the amount of food a cat needs varies depending on life stage, activity level, and whether the cat is spayed or neutered. Sterilized cats are at a high risk of becoming obese because energy tends to decline after spaying or neutering.
The biggest mistake cat owners make is overfeeding, so begin with your cat food's feeding recommendations, which are typically between a half cup to 1½ cups daily.
Cats tend to eat small amounts throughout the day and night. Cowell suggests ¼ cup twice daily for cats eating only dry food and 1.5 ounces four times daily if eating only canned food. If feeding both types, feed 1.5 ounces of canned twice daily and ¼ cup of dry food.
"A growing kitten needs a lot more calories per pound than a sedentary adult," notes Cowell. "So feeding recommendations are just a starting point. Each cat is unique. The goal is to adjust the amount you feed based on the desired weight and body condition score."
Because cats are not social eaters, households with multiple cats should set up multiple feeding stations to maintain harmony.
"The signs of conflict may be food-related," Cowell says. Fights over food can also lead to eating too fast and regurgitating.
Selecting the Right Food
Cat owners should pay attention to ingredients when choosing food for their cat. Research brands and read labels to identify an animal-based protein source. Opt for foods that have actually undergone feeding trials versus those that are simply formulated to meet standard nutritional levels established by the American Association of Feed Control Officials.
"Most of the foods that are carefully tested are going to be fine," Cowell says. "The exception is if the cat has a medical problem such as heart disease or kidney disease. Then they need a very specific diet and their owner should talk to a veterinarian."
Any changes in a cat's food should be done slowly as cats don't adapt well to change. Start by blending the new food with the one the cat is used to eating.
Cowell offers her cats both dry and canned food, but adult cats are particularly finicky.
"Cats develop distinct food preferences early in life, and if they are not exposed to different types of food when they are young, (they) will not switch when they are older," she explains.
And, finally, as cats age and become much less active, their owners should adjust calories to keep them from gaining weight.
"Providing an environment where kitty can increase its activity helps," Cowell suggests. "And feeding kitty small meals throughout the day and lots of water."