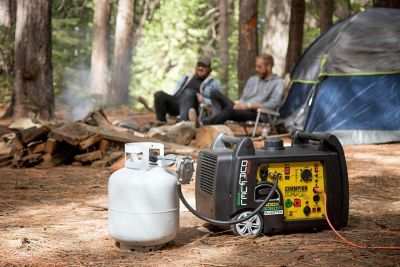 The Difference Between Traditional and Inverter Generators?
A source of portable power can come in handy, but how do you know whether to choose a traditional generator or an inverter generator? Whether you're interested in emergency backup in case of an outage, or you want power when you don't have access to an electrical outlet, it's important to determine the best type of generator for your needs.
How do you plan to use your portable power?
If your plans include basic emergency home backup, camping, tailgating, boating, hunting, fishing, or other activities, you'll appreciate the advantages an inverter generator has to offer.
If your plans include running multiple power tools on a job site, whole home backup, or anything else that might call for a massive amount of power, you'll appreciate the advantages of a traditional generator.
Inverter Generators
Inverter generators are lightweight which means easy transportation, portability, and convenient storage. They are also fully enclosed and therefore quiet, which means you won't disturb others around you or drown out conversations just because you want to run your coffee maker. If you plan to power sensitive electronics, you'll appreciate the more refined electrical output offered by an inverter generator. Although they can be expensive up front, over time, your savings will add up due to the variable speed engine that provides fuel efficiency and extended engine life. If you have a demanding power situation that one inverter generator alone can't handle, you might consider a model that allows you to pair two inverters together, giving you the power advantage of a larger, heavier, generator with the lightweight, portable advantage of an inverter.
Traditional Generators
The large power output a traditional generator has to offer is perfect if you want to back up your home during a blackout. Depending on the generator wattage size you choose, you can back up just the basics or power almost everything in your home. A weekend project or work site with a demanding load is a great place to put a traditional generator to work. A traditional generator does not have the light weight, variable speed, or quiet advantage over an inverter generator, but it does offer the highest wattage and longest run times for any given purchase price
The Basics: All portable generators use fuel (usually gasoline or propane) to run an engine attached to an alternator that produces power. A traditional generator uses an automatic voltage regulator (AVR) to control the voltage of the AC power produced by the alternator. An inverter uses a digital module to convert AC power to DC power, and then "invert" it back to cleaner AC power, similar to the electricity you get from your utility company.
Power Quality: The clean, smooth, steady flow of power an inverter generator is able to produce is ideal if you plan to power sensitive electronics that use a microprocessor, such as a laptop computer or stereo equipment. The AC power produced by a traditional generator is perfectly suitable for many other uses, including powering your RV, emergency home backup, or for running power tools on the job site.
Engine Speed & Fuel Efficiency: Traditional generators run at a fixed RPM to generate electricity at a specific frequency. Whether you are using only one appliance or several, a traditional generator will continue to run at the same speed and at a consistent noise level.
Inverters use idle control, which can speed up or slow down the engine depending on the amount of electrical demand. When you run the blender, the TV, and the lights in your RV, your inverter will run faster. When you turn off the blender and the TV and are using only the lights, your inverter will slow down, making it quieter, conserving fuel, and extending your inverter's run time and engine life.
Output, Portability & Noise Level: Traditional generators are generally capable of greater power output and longer run times than inverter generators. When you have a demanding power situation that isn't sensitive to noise level, such as running multiple power tools on a job site or providing basic backup power to your home, a traditional generator will provide more power output for your money, plus it usually has a wider variety of outlets on the power panel. Although traditional generators are a portable source of power, they are not as lightweight or easy to transport as inverter generators.
Traditional generators are well known for their great power output, however, paralleling technology allows some inverter generators to be "paired", so that together, the two smaller, quieter, lightweight inverters can do the work of one much larger, louder, and heavier traditional generator.
Cost & Run Time: An inverter generator will usually cost more per watt of output power than a traditional generator due to a higher level of engineering and technology. However, the ability of an inverter generator to adjust engine speed according to demand means you won't have to refuel as often. An inverter's variable speed can also extend your run time and the life of your engine.
Power quality, variable speed, fuel efficiency, output, portability, noise level, cost, and run time are some important factors to consider when choosing a portable power source. Whether you choose a traditional generator or an inverter generator, always remember to read and follow the manufacturer's operating manual and instructions carefully before getting started.