KuneKune Pigs are just right for farm life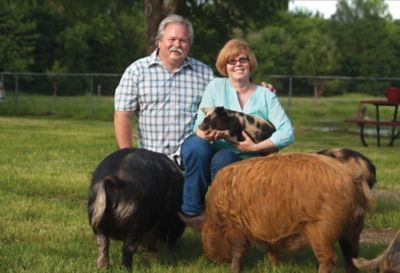 The multi-purpose pigs have been growing in popularity all across the United States.
By Hollie Deese
Photography by Amy Peterson
These days it is not at all strange to find Dottie Durrett surrounded by pigs, grandkids, and her border collie Molly on Green Acres Farm, the country paradise she shares with her husband in Terrell, Texas.
After years of living in the city, it's an idyllic life she has deliberately built. And it has been made unexpectedly more enjoyable with the addition of the diminutive and docile KuneKune pig.
"I was breeding registered Juliana pigs and then I met a KuneKune and have never looked back," Durrett says. "They're just so laid back. They have the best personality and are just really a calm, thoughtful, kind of pig — almost like a dog."
It hasn't been that long that Durrett had even heard of the KuneKune pig, and to be fair, not many people have. Native to New Zealand, they were on the verge of extinction, raised by the country's Maori tribes for meat. The grass-eating pigs were first imported into the Unites States in 1995, and numbers are small but growing.
Durrett got her first KuneKune sow and piglets in July 2015 and just a year later she's a full-time breeder. She has two sows who each have carried litters, three gilts — young females that have never had a litter — and two boars.
Cost of a bred KuneKune ranges from $800-$1,600, and an average litter is about eight piglets. Durrett prefers to breed her pigs only once a year.
"I don't want to wear them out," she says.
The multi-purpose pigs have been growing in popularity all across the United States with a surge in the last three or four years in part because they are suited for so many different uses, says Kathy Petersen, president and registrar for the American KuneKune Pig Society.
From pets, to homesteading, to therapy animals and even as a delicious rival in the pork industry, KuneKunes, which live about 15-20 years, have mass appeal.
"KuneKunes are noted by their docile, easy-going temperaments, their desire to root less than other breeds of pigs, excellent mothering ability, lack of need to test fencing, unique ability to fatten on little more than grazing, and their wattles that hang under their jowels to name just a few," Petersen says of their pluses. "KuneKunes are very hardy and do well in most temperatures."
Durrett agrees the pasture-grazing pigs are incredibly versatile, but for her they have been the perfect animal to give her grandchildren the kind of farm life she remembers so fondly as a girl.
Their small size makes them easy to handle, and the kids can get safely do chores outside with the pigs around. And it wouldn't even be unusual to find one or two of them standing by the stove in her renovated 1930s farmhouse — kids and KuneKunes alike — when Durrett is making pancakes.
"They're so special, you even don't have to socialize them when they're born," she says. "They're born friendly. And did I mention cute?"