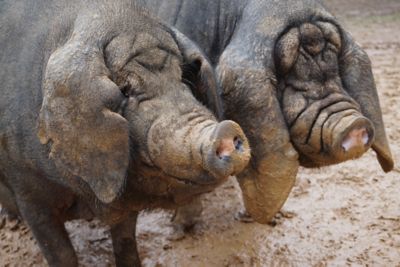 Ancient Pigs of China
Story and photo by Jeannette Beranger
The Meishan pig is what we at The Livestock Conservancy would call an "extreme phenotype," meaning it looks really different from anything else in the pig world.
Their distinctive wrinkles and floppy ears can never be confused with any other breed in the United States.
And while some may think they are not the most beautiful pig in the world, Rico Silvera of God's Blessing Farm, located in Niota, Tenn., would contend that once you appreciate the gentle temperament, manageable size, and production potential, you will soon become hooked as he did four years ago.
"They are a great pig for people who are afraid of pigs," he says. "They are extremely gentle and prefer a peaceful lifestyle."
Silvera prefers Meishans because they have the lowest environmental impact of any hog breed on pastures, they don't push and damage fences, the adults don't squeal, and these exceptionally sedentary swine sleep most of the day.
The story of the Meishan begins in the northern Shanghai province of China where swine have been domesticated for more than 5,000 years. They are part of a group of pig breeds locally known as "Taihu," named after a lake in the region.
Meishan have been valued for their meat and lard for millennia, but their most coveted trait is their ability to produce enormous litters of piglets. When sows fully mature they can produce 14-16 piglets and it was not uncommon for litters of 20 or more in well-bred stock.
It is for this trait that pigs such as the Meishan came to influence and improve some European breeds including the Large Black.
Meishans were first imported into the United States in 1989 as part of a joint study between the U.S. Department of Agriculture, Iowa State University, and the University of Illinois, Silvera explains on his farm's website. The 99 rare pigs were divided between the three participating research facilities.
After research ended in all three facilities, the pigs were either slaughtered or slowly dispersed.
Silvera's passion has been to find the last of the remaining pigs, bring them into a conservation breeding program, and develop a network of breeders that can steward the breed into the future.
Through his work, The American Meishan Breeders Association was incorporated in October 2016.
The Meishan has existed for millennia but today their fate is uncertain with fewer than 2,000 verifiably pure Meishans left in the world. The Livestock Conservancy will be placing the Meishan into the "study" category on the 2018 Conservation Priority List and work toward understanding more about this fascinating breed.
The Conservancy uses this list to bring attention to livestock, such as the Meishan, to connect them with people interested in saving a rare breed.
As for Silvera, he believes he's got a good model for success with the prolific Meishan breed.
"With Meishans, you can do more with fewer pigs." he says. "That's great if you don't have the space to have a large herd of breeding animals."
He also is a firm believer that "small farms are the most effective reservoir for protecting rare genetics," and that together, he and the other dedicated breeders will be able to conserve the Meishan.