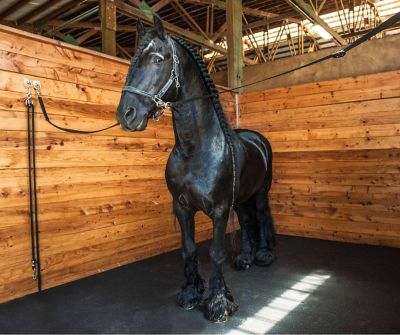 Horse Stall Mat Uses
Rubber horse stall mats are a versatile addition to your horse's living area. Rubber mats reduce the stress on a horse's joints and cut down on the amount of bedding needed, and they make mucking out stalls faster and easier. But these durable products aren't just suitable for stall flooring. Check out these other great uses for rubber stall mats:
Stall Wall Protection
If your horse is prone to wall kicking, a few rubber stall mats attached to stall walls and partitions will protect these surfaces and your horse's joints. Wall kicking can cause injury to a horse's knees, hips and ankles. Rubber stall mats are flexible and provide cushion to protect a chronic kicker. They also provide an added layer of insulation during cold months. Quickly and easily mount rubber mats on stall walls with a few screws and a drill.