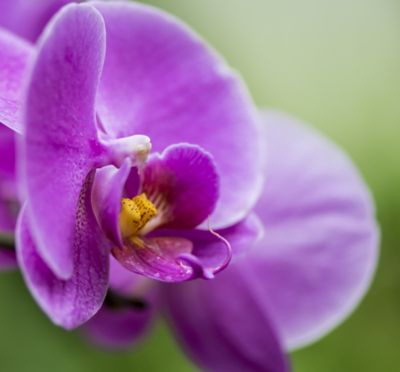 Orchid Growing Tips
Benjamin Kilbride, Editorial Assistant at The Old Farmer's Almanac
Learn how to keep your finicky orchids happy and healthy!
Basic Orchid Care
Orchids are usually potted in either moss or bark. Moss has the advantage of holding on to water like a sponge and allowing for long periods between watering. Bark drains much more quickly than moss, which means it needs to be watered more frequently while also being more flexible—there is less risk for overwatering with a bark medium.
Light
Most orchids require low-level light—place them by an east-facing window or slightly back from a south-facing window. Orchids prefer strong indirect light, or filtered light from behind a thin curtain.
Water
The amount of water that an orchid needs is dependent on the humidity level in the room, amount of light the plant receives, and the quality of soil used. Avoid watering on a fixed schedule—orchids only need how much water they use, which can change if the growing conditions change. Water orchids only right before their soil is completely dry. This can vary from a couple of days to several weeks. Watch your plant carefully and learn what it needs over time.
Hint: Plant your orchid in a clear plastic pot to know when to water—when the soil is wet, you'll see moisture on the inside; when the soil is dry, there won't be any condensation present.
Humidity
Orchids prefer humid conditions, but can tolerate mildly dry homes. If you run an air conditioner or have a wood stove, nestle the orchid pot in a bed of gravel containing a low level of water. The added moisture of evaporating water from the gravel will help to create some humidity around the orchid.
Three Orchids for Beginners
These varieties of orchids are perfect for the beginner—they can tolerate a little extra water and enjoy average light. Try one to see if you like growing orchids.
Tropical Lady Slipper Orchid (Orchidaceae paphiopedilum)
Nun's Orchid (O. phaius)
Nun's Orchid hybrid (O. phaiocalanthe)