Cherokee Purple Tomato
By David Frey
Craig LeHoullier grows 177 different tomatoes in what used to be the driveway of his suburban Raleigh, N.C., home. Out of all those varieties, one stands out.
It's not for its hearty purple color or its full — some say smoky — flavor, although it has all those qualities. It's not this tomato may have been grown by Cherokee Indians before Christopher Columbus reached the continent, although that's also part of the allure.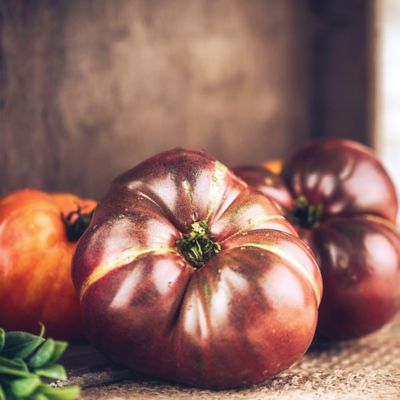 It's because LeHoullier grew this tomato from a mysterious packet of seeds that showed up in his mailbox and helped make the Cherokee purple a national sensation.
Today, it's a mainstay at farmer's markets, in backyard gardens, and on chef's local menus, but before that, it was "Vial 287" in LeHoullier's collection.
"It's a pretty unexpected beginning for a tomato that you can find in just about any farmer's market in the country now," LeHoullier says.
A retired chemist, LeHoullier was living in West Chester, Pa., when the seed packet arrived in 1990. LeHoullier was a seed collector. He joined the Seed Savers Exchange, a pre-Internet organization that let seed collectors connect with one another. And he posted regular messages in organic gardening magazines, asking fellow gardeners for seeds of special varieties and promised to share.
Hybrid tomatoes — such as the widespread Big Boy — dominated the market, but LeHoullier was attracted by heirlooms. These unique varieties had been passed from grower to grower for generations. They weren't well known, but they had colors, textures, and flavors not found in hybrids.
LeHoullier's garden started popping with weird-looking tomatoes. Some had striped skin. Some had swirls of colors. They were also delicious.
"In almost all cases," he says, "the heirlooms were more visually interesting and more interesting to eat.
Seeds With History
His collection had grown to 286 varieties when an envelope appeared in his mailbox from Sevierville, Tenn. Inside was a handful of tiny seeds and a handwritten note from a man named John D. Green. The seeds came from a very good tomato, purple in color, Green had gotten from a woman he knew. She had received the seeds from her neighbors who grew the tomato for a century. The neighbors, the story goes, got the seeds from Cherokee Indians.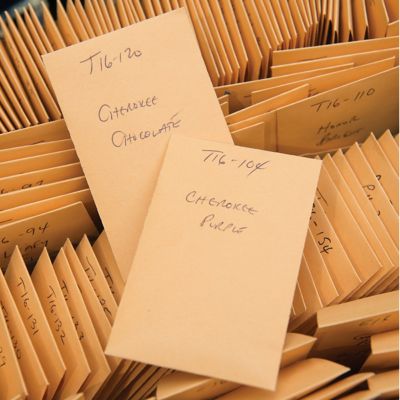 LeHoullier planted the seeds, and as summer warmed and the tomatoes swelled on the vine, they started to take on a deep burgundy hue. When they ripened, he tried them and liked what he tasted.
Dubbing the tomato the Cherokee purple, he sent seeds he'd gathered to a couple seed catalogs. It didn't exactly sell itself.
"When I first grew it out and sliced it open, I thought, geeze, this kind of looks like rotten roast beef," says Jeff McCormack, whose Southern Exposure seed exchange was the first seed catalog to sell Cherokee purple seeds.
The flavor was good, he says, but the odd color was hard to get past. "For the more adventurous," he wrote in the seed catalog description.
Plenty of adventurous tomato growers were eager to dig in. The color was intriguing. The flavor sounded promising. And the notion that it may have a Cherokee legacy was too good to pass up.
"It looks like a bruise, but the flavor is so amazing, once people try it, it becomes their favorite," says Alex Hitt, owner of Peregrine Farm in Graham, N.C.
Hitt had been looking to branch out from the standard red varieties he'd been growing. Heirloom tomatoes were just becoming popular, and Hitt was looking for something new. He'd read about the Cherokee purple in a newsletter LeHoullier used to publish, and when he spotted it in a seed catalog, he snatched it up.
"It's been a great tomato for us ever since," he says.
He wasn't alone. Across the country, more and more market gardeners became attracted to the Cherokee purple for its unique flavor, color, and story, until it became a common offering anywhere it would grow.
"It was the first time people saw a tomato of this color," LeHoullier says. "It stands out. It was striking."
Soon, the Cherokee purple was legendary, and LeHoullier sometimes cruise farmers markets, seed catalog in hand, telling farmers that he was the man responsible for naming it and bringing it mainstream. It made him a sort of farmers market celebrity.
He doesn't do that anymore, he says, but he still takes pride in turning people on to this unique tomato. And although his seed collection has grown to some 3,000 varieties, he still ranks the Cherokee purple among his favorites.
It's not just about the tomato itself. It's about history. Any heirloom variety, passed down from generation to generation, LeHoullier says, preserves a little piece of the past.