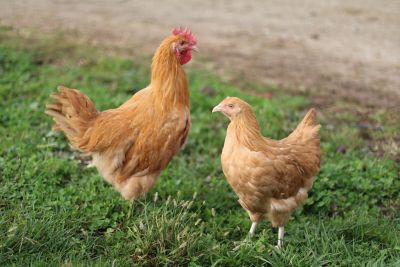 American FarmWorks® Electric Fencing Guide: Poultry
Chickens, ducks, geese and turkeys can be enclosed and protected from predators with an electric fence line. Electrified lines can also be used in combination with an existing poultry enclosure to strengthen defenses against predators.
What you'll need:
Enough poly wire or fence wire for 2 fence lines
Fence charger
Ground rods
Step-in Posts (as needed)
Connecting wire
Insulators
Chain-link Insulators, if adding to an existing poultry pen
Fence line tensioner and crimping sleeves, if using wire
Appropriate fencing tools
Number of fence lines: The number of fence lines for poultry can vary from 1 or 2 depending on the following factors.
Predator concerns
Whether you are adding to an existing fence or creating a new one
Best setup: Run at least 2 wires starting low to the ground. The first wire is set at 4 to 6 inches above the ground and the second at 10 inches. Step-in posts((((Link)))) and American FarmWorks® poly wire((((link)))) are ideal.
Chickens need time out in a pasture to supplement their diet. As they peck at the ground, they're picking up tiny bugs, weeds and grass. They also gather small stones to assist them in digestion. By providing them with space, you'll have far healthier birds.
Ducks, geese and turkeys also benefit from open pasture space, and use that time to gather additional nutrients, just as chickens do.
Tip: To properly contain any poultry, you must clip one of their wings. Clipping just one wing is enough to keep them from flying over the fence while giving them some ability to flee from predators.
Fence Charger
Ideally, your fence charger needs to work for poultry and against predators. With that in mind, a fenceline should run 5,000 volts at a minimum. All types of poultry are subject to predation from coyotes, raccoons, skunks, weasels, martins, foxes, bobcats or stray dogs, so a deterring shock is vital to drive these predators away.
Also remember that voltage levels can vary depending on the length of fence, the type of wire and if there's vegetation intruding on the fence line.
American FarmWorks® recommends purchasing a fence charger based on your fence's characteristics:
Low impedance fence chargers(((LINK))), which include all American FarmWorks® fence chargers, are best for heavy weed conditions, long fences and/or large animals.
Plug-in (AC) fence chargers(((LINK))) must be placed near a power outlet. They deliver continuous, inexpensive electricity to a fence. They are the best all-around chargers thanks to their reliability.
Battery-powered (DC) fence chargers(((LINK))) are ideal for remote locations that are regularly checked.
Solar-powered fence chargers(((LINK))) are ideal for remote installations where AC power is not available. They have self-contained batteries.
Note: Solid-state fence chargers were once an option for electric fencing. That is not the case anymore, and this style of charger is not safe for use. American FarmWorks® does not offer any solid-state charger options.
Tip: For the best in predator protection, run an electrified line on the outside of a poultry enclosure. Do this even if the enclosure itself isn't electrified. This will deliver a jolt to any predator that approaches your birds. Further, an electrified line at the top of a fence is also helpful to resist predators with climbing skills.