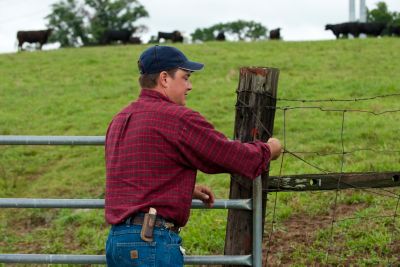 Three Types of Fence Gates
When it comes to keeping livestock safe and where you want them to be, the right kind of fence gates makes all the difference. Cows, horses and smaller animals need enclosures that maintain their safety while providing adequate exercise, forage and holding space. There are three basics types of gates farmers use to enclose fences and provide access for both people and animals: wire filled, tube and galvanized. Each kind of fence gate provides unique benefits for the animals they're designed to protect.
Wire Filled
Wire-filled gates get their name because they are filled with wire, rather than just bars or tubes. The 2 x 4-inch wire mesh is stretched across the bottom ¾ of the gate with a ¼ of the gate left open across the top. These fences are ideal for yards, dogs and other small animals or as a no-climb horse gate. And the lack of catch points keep animals of all sizes safe and free from injury. Wire-filled gates can keep curious goats in and kids and lambs from jumping through. These sturdy gates are typically galvanized or coated in baked-on polyester powder coat for better performance and a longer lifespan.
Tube
Tube gates are typically 19-gauge and are made of rounded steel tubing of high tensile strength steel. Tube gates work well for livestock fences, pasture, and as part of portable corrals. The tubes are joined by saddle joints that feature a continuous weld for extra strength. Most tube gates feature six bars for added support. Tube gates are portable and lightweight, making them good for travel to shows and fairs. Tube gates feature hinges and hinge pins that are easy to use and make for a quick setup at any location. Tube gates with six bars are not designed to keep small animals contained due to too much space between the tubing. However, 7-bar hog or sheep tube gates work well at keeping kids and lambs in. Tube gates range in size from 4 feet up to 16 feet depending on your containment and equipment needs. Rounded tubing prevents injury to contained animals. Look for powder coating or E-coat for a long-lasting finish that stands up to all kinds of weather.
Galvanized
Galvanized metal is steel or iron that has a layer of protective zinc coating to prevent rusting. The most popular method of galvanizing is the hot-dip method where metal is submerged in a bath of hot, liquefied zinc. Galvanized metals can hold up to the most severe weather year after year without evidence of corrosion. Choosing fence gates made of galvanized metal is the best way to ensure the life of your fence gate. Both wire-filled and tube gates come in galvanized options. Galvanized metal gates are more expensive than their power-coated cousins, so consider the location of your fencing and gate carefully before choosing which option is best. For long-term fencing of pastures, turnout areas and permanent corrals, galvanized metal gates are a better investment. For portable exercise areas, temporary fences and shows, the less-expensive powder coated gates are a good choice.
No matter your livestock-containment needs, Tractor Supply Co has the right gate and fencing options for big farms, small farms and everything in between. From 16 ft. tube gates to 4 ft. wire-filled garden gates, TSC has the right option for your farm fence opening.