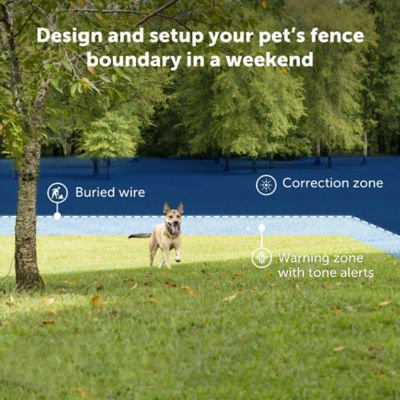 Three Things to Know About Invisible Fences
Keeping your pet contained on your property is an important part of responsible pet ownership. Invisible fences create boundaries without the need for traditional fences. By using gentle correction, your dog learns where he can and cannot go both outside and within your property lines. Invisible pet containment systems keep even the most stubborn pets where they belong. Invisible pet systems come wired and wireless, depending on your property and needs.
How Deep to Bury
In a wired pet containment system, a wire antenna is buried approximately 12 inches under the ground — any deeper and your system begins to lose the signal. Never bury a pet containment wire deeper than 2 feet. The wire can be buried in any configuration you want, depending on the areas you wish to protect, like a swimming pool or garden. When your dog is wearing a receiver collar, he gets a gentle electric correction when too close to the perimeter. Most systems come with warning tones that can be used to train your dog to stay well away from the perimeter without getting a correction. Collars can be adjusted to meet the needs and temperament of the dog you are training.
When to Choose Wireless
Choose a wireless invisible fence when burying a wire is not an option and you need to get your system up and running quickly. Wireless pet containment systems have a transmitter that creates a circular field around your yard based on where it is located in the garage. The advantage of a wireless system is its ease of installation and use — basically, it's ready as soon as you take it out of the box, with no need to bury anything. The disadvantage is you cannot customize your dog's perimeter. This can dramatically limit the amount of space your dog has to roam and prevent you from establishing boundaries around gardens or other areas of your yard.
Use Common Sense
Pet containment systems are a great alternative to standard fencing and, when well maintained, can last for many years. Collar receivers and other components require batteries, so testing them periodically to make sure they're in working order is important. And never leave your pet outdoors when you're not at home. An invisible fence can only keep your dog in the yard. It cannot control strangers, stray dogs or other animals coming onto your property.
Tractor Supply Co has a complete line of wired and wireless invisible pet system. For large dogs, small dogs and everything in between, let us help you keep your pet safe.