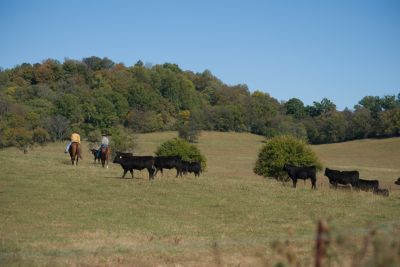 American FarmWorks® Electric Fencing Guide: Beef Cattle
With the help of American FarmWorks®, it's easy to create an effective physical and psychological barrier for cattle.
High-tensile electric fencing stands out thanks to its minimal expense, ease of construction and long-term durability. In fact, it is perfect for both perimeter and interior fencing. Further, using it for both exterior and interior fencing makes installation and maintenance easier since there's only one set of supplies to work with.
Electric Fence Design for Beef Cattle
What you'll need:
Enough wire for 3 to 6 fence lines
Fence charger
Ground rods
Connecting wire
Wire insulators
Fence line tensioner
Crimping sleeves
Number of fence lines:
The number of fence lines can vary from 1 to 6, depending on the following factors:
Animal size
Expected fence lifespan
Your activity inside the enclosure
Predator and wildlife concerns
Rotational grazing needs
Perimeter fencing
Best setup: In general, at least 4 strandNumber of fence lines: s are required for cattle, and 5 should be considered. For high-tensile fencing, space the wires approximately 10 inches apart with the minimum fence height of 54 inches. At the very least, set the bottom wire 12 inches from the ground. Electrify 2 to 3 lines. Note that more wires are required for bulls and aggressive breeds.
Avoid running an electric fence as a perimeter fence only. Instead, have an outer ring of high-tensile electric fence as the perimeter fence, and then fence in individual, electrified paddocks inside it.
Tip: Are cows and calves sharing an enclosure? Then you'll need an electrified wire at both their nose levels.
H3: Feedlot Fencing
For feedlots, fences should have at least 5 strands of high-tensile wire. These lines should be spaced 10 inches apart, with the lowest approximately 12 inches above the ground. Minimum fence height should be at least 52 inches.
Rotational Grazing Fencing
If you are planning a rotational grazing feeding system, cross-fencing can be made with T-posts and a 2 to 3-wire system as you split large pastures into smaller paddocks. Space wires 10 inches apart with the bottom wire approximately 20 inches from the ground. Fences should be at least 40 inches in height.
Tips: Looking for a less permanent option for rotational grazing? Try step-in posts and 2 or 3 strands of American FarmWorks® wire.(((LINKS))) Electrify this cross-fencing by tying them to the "hot wires" of the main perimeter fence.
Handling facilities
For cattle-handling enclosures, use wood fencing or heavy wire panel fences. For these fences, electric lines are not appropriate. To prevent escapes, these fences should be at least 60 inches high and provide good visibility to the outside, which will reduce stress on the cattle and keep them moving.
Fence Chargers
To safely contain most beef cattle, a fence charger that delivers at least 2,000 volts to 3,000 volts to the fence line is required. Remember that voltage levels can vary depending on the length of fence, the type of wire and if there's vegetation intruding on the fence line.
American FarmWorks® recommends purchasing a fence charger based on your fence's characteristics:
Low impedance fence chargers(((LINK))), which include all American FarmWorks® fence chargers, are best for heavy weed conditions, long fences and/or large animals.
Plug-in (AC) fence chargers(((LINK))) must be placed near a power outlet. They deliver continuous, inexpensive electricity to a fence. They are the best all-around chargers thanks to their reliability.
Battery-powered (DC) fence chargers(((LINK))) are ideal for remote locations that are regularly checked.
Solar-powered fence chargers(((LINK))) are ideal for remote installations where AC power is not available. They have self-contained batteries.
Note: Solid-state fence chargers were once an option for electric fencing. That is not the case anymore, and this style of charger is not safe for use. American FarmWorks® does not offer any solid-state charger options.
Tip: A minimum of 5,000 volts on the fence line is required to deter predators and other wildlife from entering electric fence enclosures.
Containing Bulls
Bulls are highly motivated breeders, and they should be segregated from cows, especially when the cows are in heat. Hormones will drive bulls to test fencing, so it's important to plan for this accordingly.
To keep bulls properly contained, your fence line needs to run 3,000 volts to 4,000 volts. To do so, you'll want a high-mileage American FarmWorks® low impedance charger(((Link))) that can easily operate a fence with 5 or 6 lines. With these aggressive animals, you want your American FarmWorks® fence to deliver an intense shock whenever they test it. This will discourage their efforts to get to a cow.
What About Barbed Wire Fencing?
Years ago, the most common cattle fencing was barbed wire. Unfortunately, it's not ideal, especially now that electric fencing is readily available and easy to install. Barbed wire, in particular, can injure cattle easily. Also, maintenance costs on barbed wire fences can be substantial.
Tip: If you're thinking about electrifying a barbed wire fence – Don't! Doing so will endanger you, your livestock and wildlife.