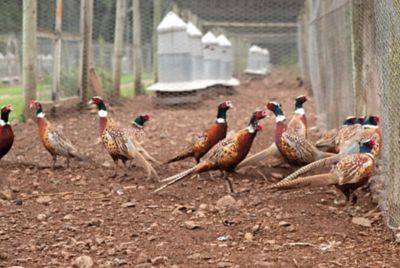 Pheasant Farming
By Nancy Dorman-Hickson
Photography by Theresa Scarbrough
What began as three pheasants and a 50-egg incubator in 1977 has become Krug's Northwoods Game Birds, Inc., one of the largest game bird farms in Wisconsin.
"I just thought pheasants were pretty," founder Susie Krug says with a laugh. "It was just a hobby at first, but my brother told me he would buy all the pheasants I could raise."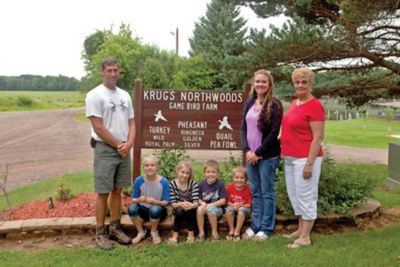 Her business in Medford, Wis. quickly grew. Then, daughter Jenny began helping during high school and soon, Susie asked her husband Jerry to quit his road construction job to aid in managing the birds. After Jenny married, her husband Jerry Cooley joined the family enterprise. The elder Krugs are mostly retired now with the younger generation handling the daily operation.
"This year we hatched 415,000," Jenny says. "Our breeding stock is 11,000 hens. We will raise 70,000 pheasants to adult size." The farm also sells "hundreds of thousands" of chicks.
"We actually doubled our hatching business in the last four years," Jenny says. The reason for the expansion is simple, she laughs: "I've got four kids I've got to support!"
It Starts With The Egg
Though the Krug farm historically has raised partridges, quail, and a variety of pheasants, the family now concentrates on traditional ring-necked and black melanistic pheasants — types of game birds most sought after by their customers, who primarily come from Wisconsin, Minnesota, Michigan, and South Dakota, Jenny says.
"There is a small percentage of our birds that go to repopulate for conservation, but most of our customers own hunting preserves," she says.
To lengthen the breeding season, the farm uses artificial lights to simulate spring.
"We want eggs for 22 straight weeks," Jenny says. They start around Christmas in the barns using artificial lights; by March, the hens begin laying eggs with spring's natural light.
Each of the farm's 11,000 breeding hens averages 75 to 80 eggs. In 2016, the farm gathered 650,000 eggs and, at their peak, 8,500 eggs are gathered in a day, Jenny says.
Cracked and blemished eggs are culled. The remaining eggs are washed and disinfected by machine, then stacked into trays on rolling racks. The eggs are then held in a cooling room at 58 degrees F and 75 percent humidity.
"You want the egg to be dormant," Jenny says. Cool temperatures and humidity accomplish this goal. "Too warm and the embryo will develop too early; too cold, and it will kill the embryos." Dormancy allows the family to control when hatching begins.
The farm has seven incubators, each of which hold 22,000 eggs at 99.5 degrees. The eggs are automatically turned every hour. On hatching days, "we start at midnight and work 18 hours," Jenny says.
As they grow, the chicks are moved to increasingly larger rooms.
"At 4 to 5 weeks, the chicks go to screen porches to get them used to the weather," Susie says. At around 22 weeks, she says, "We box them up and ship them to our customers or our customers come here to pick them up."
Biosecurity and the birds' health are constant concerns. At the farm, each person has an assigned barn. To further avoid cross-contamination, trucks coming on to the property are sprayed with disinfectant. Drivers are required to wear booties and sometimes coveralls when they step out of their vehicles. The same precautions are taken when Krug trucks enter other properties.
Prized Fowl
"We pick our breeder (birds) for their long tails and for their nice size, which is not too big or too little," Jenny adds. "When people call and ask about our bird size, I say they come in one size: perfect."
It's difficult to say what is the most taxing part of the year on the farm.
"There are two kinds of busy seasons," Jenny says. "We have the 'hatching/gathering eggs and raising the birds' season. And then we have the 'shipping of the adult birds' season."
The Krug Farm game birds grow more in demand each year. "We're sold out six months prior to hunting season," Jenny says. "I think it's because of our reputation and our quality of birds."
Raising game birds is hard work, but worth the effort, Jenny says.
"When you're working with live animals, it's a challenge," she says. "I like a challenge."