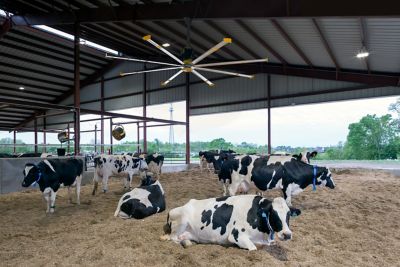 3 Reasons to Have Outdoor Fans
Ceiling fans, box fans and personal fans are all great ways to circulate air around the inside of your home when the weather is hot and the air conditioner needs a little help. Ceiling fans also provide decorative interest as opposed to a regular center-of-the-room light, while creating a refreshing breeze anywhere in the house. But fans aren't just for the indoors. Specially-designed ceiling fans, wall-mount fans, misting fans and pedestal fans can provide these same benefits and more when used on patios, porches and decks.
Air Circulation
One of the best reasons for adding a fan to your outdoor living space is to keep the air moving during the heat of summer. Hot and humid days are made more bearable when a breeze is blowing. Outdoor fans can keep warm air moving so it feels less oppressive. Ceiling fans do this by forcing the hottest air down and pulling cooler air up in a circular fashion so the freshest air is what you feel the most. Wall mount fans pull air across an area, creating a heavier breeze that feels cool and provides relief. No matter the outdoor fan you choose, circulating air even on the hottest days will help keep you and your guests more comfortable while spending time outdoors.
Cooling
Along with air circulation, creating a breeze around you can actually reduce your body temperature. Think of your body as a natural air conditioner. When you perspire and air passes over the perspiration, it cools your internal temperature down making you feel cooler on the outside. Barrel fans and drum fans do a great job of this because they have large blades that blow directly across a large area. Misting pedestal fans cool by using soft sprays of water across a fan to create an air-conditioned effect. On super-hot days, adding a misting fan or barrel fan to your patio or deck along with your outdoor ceiling fan can create breezes and air flow that keep you cool and comfortable.
Insect Control
One of the most surprising benefits to adding a fan to your outdoor living spaces is insect control. There's nothing worse than flies and bees buzzing around your barbecue on hot sticky days. It makes you want to move your entire picnic indoors. Because flying insects have a hard time maneuvering in a breeze, turning on a ceiling fan or adding a pedestal or barrel fan is a natural insect deterrent. With a flip of a switch, you can significantly reduce the number of bugs trying to invade your personal space.
Tractor Supply has a full line of outdoor fans available. No matter the space or place, we can help keep you cool all summer long.