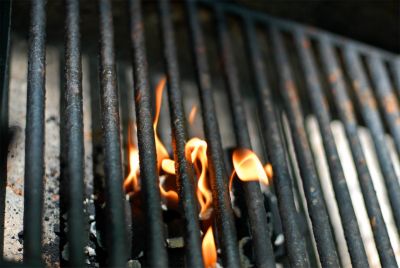 5 Benefits of Grilling
Summer is the perfect time for grilling. Favorite meats and vegetables just seem to taste better when cooked in the great outdoors. But grilling isn't only good for holidays or backyard fun. Grilled foods offer a variety of health benefits not available through other methods of cooking. So whether or not you're a big fan of a flame-kissed steak, the following five health benefits will have you singing the praises of grilling:
1. Less Fat
One of the biggest health benefits grilling offers is less fat. Not only is less fat needed to grill meat and vegetables to perfection, excess fat from within foods drips away before ever hitting your plate. Grilled vegetables need only a toss in some healthy olive oil for added flavor and ease of cooking, and a light coating of cooking spray is all it takes to keep most meats from sticking.
2. More Nutritious Veggies
Because vegetables on the grill take less time to cook than when using more traditional methods, they retain more of their natural nutrition. Boiled or stewed veggies leave much of their flavor as well as their vitamin and mineral content behind in the cooking water. But roasted vegetables maintain texture and increase in color and flavor without losing valuable nutrients.
3. Nutrient-Rich Meats
Vegetables on the grill aren't the only thing that increases in nutrition when cooked on the grill. Meat cooked on the grill retains more of its riboflavin and thiamine. Thiamine and riboflavin are B vitamins that help the body turn food into fuel for more energy. Meat or seafood grilled over a gas flame that is fully cooked but not charred is a perfect addition to a healthy diet.
4. Less Butter for Cooking
Meats cooked over an open flame retain their moisture better than those cooked in other ways. This means your grill master is less likely to add more butter while cooking to keep meats moist. Less butter on the meat means less fat on your plate.
5. Grilling is a Social Activity
Along with great physical health benefits, grilling can be a mood lifter. Grilling tends to be a social activity in the summer months and gives people the opportunity to entertain guests. Sitting outside with friends while tending the grill offers time for conversation and togetherness; and that's food for both the body and the soul.
Tractor Supply Co has everything you need to turn your backyard into a grill master's paradise. From gas grills and smokers to propane tanks and tools, Tractor Supply Co. is a one-stop grill shop.