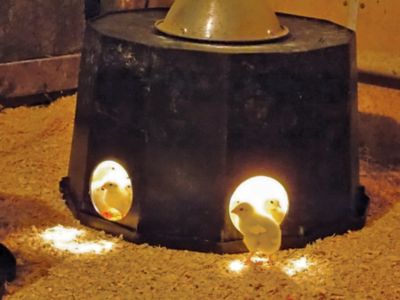 Make a brooder from a muck bucket
Story and photography by Glenda Plozay
Murphy's Law of Farming states that, "The minute your chicks arrive in the spring, so will a cold front."
A muck bucket brooder made from supplies you can buy at Tractor Supply, is the answer to keeping chicks warm and healthy. It's a more efficient solution than hanging brooder lights — our electric bill reflected the inefficiency — and a muck bucket brooder keeps the heat where it should be: surrounding the chicks. It also creates a draft-free area with plenty of ventilation.
It's important to have more than one muck bucket brooder because if the light in one of them burns out, there's another warm area for the chicks. Each muck bucket comfortably houses 10 chicks.
On our organic farm, getting the chicks off to a healthy start is a key ingredient to their successful transition into the pasture. We've experienced fewer losses with better growth rates after making this brooder a part of our poultry plan.
After you've constructed the brooder, spread pine shavings throughout the brooder area, both inside and outside the muck bucket, to a thickness of 3 inches. Nestle the buckets into the shavings so the chicks can easily enter and exit the muck bucket brooder.
Place feed and water outside the muck bucket brooder. The chicks will eat and drink freely and go inside the bucket when they need to warm up.
Before your chicks arrive, turn on the lights so that it's a comfortable temperature inside the brooder — 95 degrees the first week, reduced by 5 degrees each subsequent week. Reducing the temperature is as easy as changing the bulb. Use a 100-watt bulb (or low-wattage heat lamp, depending on the temperature) the first week or two. Change to a 75-watt bulb as the outside temperature warms up.
Use brooder lamps until the chicks feather out and the outside temperature is comfortable.
Making a muck bucket brooder is an efficient way to keep your chicks warm and healthy. This type of brooder is economical and easy to make and it will last for years.