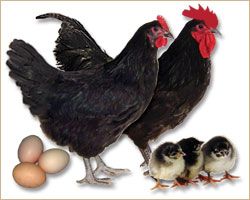 Black Australorp
Article provided by Hoover's Hatchery.
One joy of keeping backyard chickens is an opportunity to create an international flock. It's easy to buy chicks of breeds developed in England, Holland, Germany, Italy, Spain, China, and the United States. Black Australorps add Australia to the list, and the breed is one of the very best for small backyard flocks.
The Australorp is Australia's national bird. It was developed by "down under" breeders from White Leghorns, Langshans, Rhode Island Reds and Orpingtons. Their goal was to create hens that produced abundant light brown eggs from a chicken big enough for meat production. The result is that Australorps are true dual purpose birds – great layers and good eating. Hens weigh between five and six and a half pounds with roosters larger.
Although opinions differ on where the breed's name came from, it's likely a combination of Australia and Orpington. Australorps share many traits with Orpingtons. Both have white skin and fluffy plumage that helps keep them warm during severe winters. They are both calm birds that are content to live in small flocks. Australorps are generally quiet and not flighty. Even a low fence confines these heavy, calm birds.
Many chick catalog descriptions of the Black Australorp mention record setting egg production, and there is evidence of small flocks averaging over 300 eggs a year. Modern Australops kept in healthy coops, and when fed a nutritious diet are likely to average about 250 light brown eggs a year. That puts them on par with, or slightly below, Rhode Island Reds, Plymouth Rocks, or any of the many brown egg hybrids available today.
Some Black Australorp hens have a strong motherly instinct and are apt to go broody. It can be maddening if several hens in a small flock stop laying and just want to incubate eggs, but the broody process is fascinating. Few backyard flock owners keep a rooster, so their hen's eggs won't hatch, but this doesn't keep a broody hen from sitting.
A fun aspect of raising chickens is to acquire fertile eggs. After dark, remove the infertile eggs from under the hen and slip in the fertile ones. It's best to put hen and eggs in a nest that's in a separate coop from the other hens. If all goes well, 21 days later the Australorp will be a mom and one of the most attentive of all chicken parents.
Unlike many breeds, Australorps in the United States are available only in a gorgeous lustrous black with a green or purplish sheen. In Australia, blue and white varieties are available.
Including an Australorp or two in a chick order containing American, European, and Asian breeds creates a colorful and productive international flock.