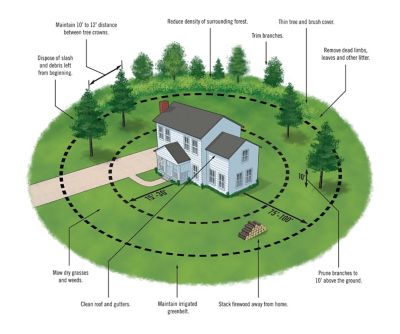 Heat and smoke from a wildfire can shape the weather, creating winds capable of carrying burning debris into the sky. But, the smoldering bits can fall and threaten property and homes far from the original fire.
"What we are finding is that a lot of homes lost in wildfires are lost because of embers," says Lisa Mason, a fire communities manager for the Colorado State Forest Service. "Someone might be two miles away from the wildfire, but they're still losing their home."
Homes too often lack the proper defenses. In the last 10 to 15 years, high-profile fires throughout the West have damaged entire neighborhoods and raised awareness about the risk of wildfires.
The losses, Mason says, heightened interest in proven fire prevention techniques — wildfire defensible space.
The goal is to create a landscape around a home that limits the possibility of a fire taking hold: Strategic planting, proper house maintenance, and the careful tending of existing plants, trees, and grasses.
The goal is to create a landscape around a home that limits the possibility of a fire taking hold.
"It gives your home a fighting chance to survive a wildfire," Mason says. "Likewise, if you've got a house fire, defensible space could stop the house fire from becoming a wildfire."
In more densely populated areas, defensible space can keep a fire from spreading from home to home. In less-populated communities, the proper strategy can also buy enough time for firefighters to respond.
"In rural areas, it's often hard for fire departments to get to a home quickly, so this gives a structure a fighting chance on its own to stop a fire from getting to it," Mason says. "But if firefighters can get to your home, it also gives them a safer space to fight a wildfire."
PROPER BALANCE
Landowners often believe fire-resistant landscapes equal sterile, unwelcoming homes.
"One of the common misconceptions is that to create defensible space you have to create a moonscape; that you have to remove absolutely everything from around your home," Mason says. "That is absolutely not true."
Rather than eliminate landscaping, homeowners should consider ways to manage a property to balance esthetics with safety. The process begins with a change of perception. Consider trees, shrubs, and grasses as fuel, not just landscaping.
"The principle of defensible space is that you're manipulating the fuels around your home, so you want to put non-flammable materials into your landscaping," Mason says.
One option, for instance, would be placing decorative gravel or some other flame-resistant material beneath trees.
"So if a fire is approaching your home, you want to have some breaks in fuel," Mason says.
As a result, a defensible space strategy can be woven into an existing landscape.
The strategy breaks a landscape into three zones, with the third and most distant zone representing the natural, untended landscape.
Rather than eliminate landscaping, homeowners should consider ways to manage a property to balance esthetics with safety.
Defense, however, begins with zone 1, the closest to a home. The goal is a buffer of between 15 feet and 30 feet.
"That's where you need to remove the most fuel," Mason says.
The first step begins with clearing flammable material from roofs or any area near the structure. For example, the space below a raised wooden deck can be a danger, Mason says.
"That's an easy place for embers to get trapped. An ember could smolder for a few days, and then the winds picks up just right. It could ignite the deck," she says.
Also, a homeowner should consider "ladder fuels," which are plants or other material that could allow a fire to jump from the ground into a tree's crown, where flames could then leap from tree to tree.
"If you've got grasses or a shrub underneath a tree, fire can travel up just like a ladder," Mason says. "So, make sure there are no shrubs beneath a tree, and keep the grasses mowed."
Also, the home itself should receive attention. Windows are also key, with triple-paned glass recommended. Burning shrubs beneath a window can generate sufficient radiant heat to shatter the glass and allow flames inside the home, Mason says.
Outside zone 1, the landscape can transition toward the natural ecosystem. The strategy will vary from region to region, and a landowner should consult with a forester to identify not only the safest, but also most scenic strategy, Mason says.
For example, in Colorado, ponderosa pines are common. The goal would be 10 feet between tree crowns.
"By having spaces between trees, you're making it harder for the fire to become a crown fire," she says. "Ideally, you want the fire to stay on the ground. If it does reach the tree tops, it becomes hard to stop."
Creating space between trees, however, does not necessarily leave an artificial environment.
"You can make it look like a forest," Mason says. "You can have a clump of two or three trees, and then you might leave 15 feet between other trees."
Defensible space, however, does not end with the initial landscaping.
"It's got to be an ongoing process, whether it's just mowing your grasses frequently, or cleaning your gutters or replacing one window at a time," Mason says. "From the small things all the way up to the bigger things, maintenance is key."
Georgia writer Noble Sprayberry is a frequent contributor to Out Here.