Instead of ending each workday with a hectic rush-hour commute, attorney Kim Martorana winds down by stepping outside and spending time with some of the gentlest creatures on earth.
Martorana, who practices law from home on her 11-acre farm, also raises alpacas, a native South American livestock breed that is an emerging industry in the United States.
"My day with the alpacas begins in the late afternoon, when I go down to the barn to give them some feed, make sure they have water and hay, and clean them up," says Martorana, of Auburn, Ohio. "Sometimes I bring along my 5-year-old. It takes us about 20 minutes to do the chores, but we usually spend a little more time just hanging and enjoying the animals."
When Martorana, a former suburbanite, and her husband, John, decided to move to a farm several years ago, they first considered raising horses. But after a friend introduced her to alpacas — and the tax advantages the alpaca breeding business offers — the Martoranas quickly changed gears. Federal tax law allows most alpaca farmers to write off business expenses, including depreciation of their herds.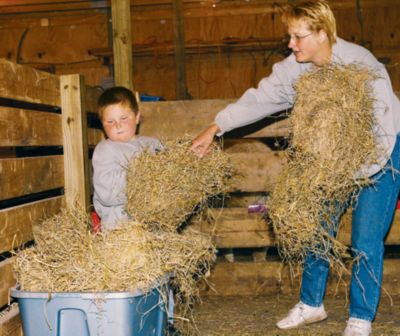 "I first was looking into alpacas as a tax shelter," Martorana says, "then I fell in love with them."
Indeed, Alpaca breeders often call their herds "an investment you can hug."
Part of the attraction is their friendly nature, Martorana says. "They're gentle and soft, not aggressive like the llama," she explains. "They don't have any upper teeth, just a hard gum like a baby's. And alpacas have a padded foot, like the palm of your hand."
Even Gabriel, her young son, is comfortable caring for the alpacas and showing them at special events throughout the community.
"He enjoys telling people about them and letting them touch them and pet them," Martorana says.
Alpacas are considered one of the easiest livestock animals to maintain. Averaging about 36 inches tall and weighing between 150 to 175 pounds, they eat about as much as a large dog, Martorana says. They have a hardy constitution and few health problems. Alpaca females typically have one offspring per year.
Their diet consists of pasture grass and hay supplemented by alpaca pellets, which Martorana buys from her local Tractor Supply Co. store in Chardon, Ohio. The animals spend most of their time grazing in fields, but in harsh weather huddle in a three- sided barn.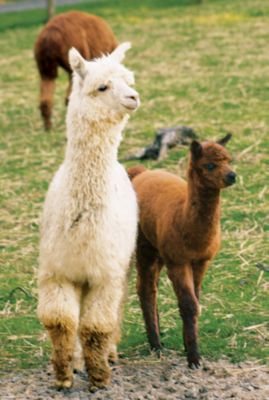 LUXURIOUS FIBER
The two types of alpacas, Suri and Huacaya, are differentiated by appearance. Huacaya, more common throughout the world, have a short coat with a wooly appearance, while the Suris' silky fiber hangs from its body like dreadlocks. Martorana includes both in her alpaca herd of 12.
Coats from both types are used to produce a fiber — often compared to cashmere, softer and warmer than wool — that is naturally oil-free and hypoallergenic, Martorana says. In South America, textile factories turn the fiber into velvety sweaters, blankets, and other soft goods.
Because the industry is in its infancy here, alpaca textile manufacturing is considered a cottage industry in the United States, with just a handful of small mills processing fiber, says Jerry Miller, spokesman for the Alpaca Owners and Breeders Association.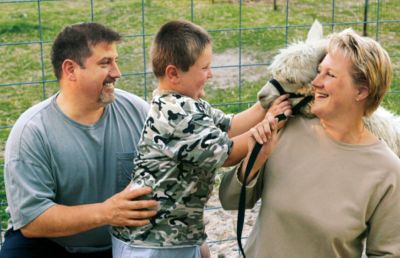 Eventually, the industry may support large mills and increased production. Pinpointing a timeline is difficult, industry experts say, though 10 to 15 years is realistic.
In the meantime, most American alpaca farmers simply store the fiber that results from the annual shearing. Martorana sends some of hers out for processing into yarn, then sells or donates it to knitting groups.
"Right now, people here are raising them just to have young and sell them," Martorana says. "You want to have baby girls, because it's a breeders' market."
Industry analysts say farmers should expect to wait at least three years before realizing earnings from an alpaca-breeding program, although tax benefits may apply sooner.
Raising alpacas in Ohio puts Martorana in good company. The state is home to more than 390 alpaca farms and 7,000 registered alpacas — the largest concentration in the nation.
Renee Elder is a freelance writer in Raleigh, NC.
MORE ABOUT ALPACAS
Alpacas are natives of the Andes Mountain regions of Peru and Bolivia.
Alpaca imports into the United States began in 1984; in 1999, the Alpaca Owners and Breeders Association stopped registering new arrivals, citing a need to protect the U.S. market's quality. Unregistered alpacas don't hold much value or interest for farmers.
The U.S. alpaca population remains relatively small — about 60,000 compared to some 3 million worldwide — and prices remain strong. Farmers often pay $20,000 or more for a breeding female or top-class sire, and some animals bring much more.
There are 22 natural alpaca colors, including fawn, rose grey, maroon and, the most prevalent, white.