Choose the Right Soil for Easy-Care Containers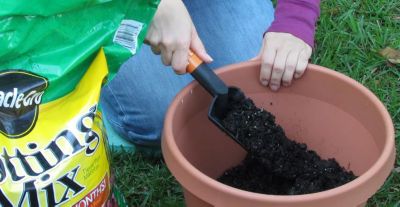 Don't waste your hard-earned time and money by planting your beautiful container plants in the wrong potting mix. Choose the right soil mixes by evaluating each plant to find the mix that caters to its every need, whether that's good drainage, moisture retention or extra fertilizer. With the right potting soils, your container gardens will thrive and require less care.
Types of Potting Mixes
Soil-Based versus Soilless Potting Mixes
The biggest consideration is choosing between soil-based potting mixes or soilless potting mixes. Soil-based mixes are the heavier of the two and are made up of sterilized garden soil and amendments like perlite. Perlite is a natural material that both retains water well and prevents compaction, improving drainage. Use a soil-based mix with plants that need little repotting or with large potted plants that require added stability from the weight of the mix. The nutrients in the soil-based mixes are also more complete and last longer than those in soilless mixes.
Soilless mixes are lightweight mixes of sterilized peat or coir (coconut husk fiber) and the more standard amendments such as ground bark. Many soilless mixes have the added benefit of built-in slow-release fertilizer, which is especially helpful for short-term plantings, such as annuals. Because they are lightweight and don't last as long as soil-based mixes, use soilless mixes for annual plantings, window boxes and hanging baskets. If you don't use an entire bag of potting mix, seal it well to prevent fungi or pests from contaminating it.
Specialty Mixes
Specialty mixes are designed for different types of plants. Use an azalea mix for plants that prefer an acidic, moisture-retentive soil, such as camellias, gardenias and azaleas. Plant cacti and succulents in a cacti mix containing lots of freely draining perlite and sand. Give orchids and bromeliads plenty of air around their roots by planting them in an orchid mix containing bark, charcoal and perlite. Many potting mixes also contain peat or polymers to retain moisture longer, or slow-release fertilizers to release a steady stream of nutrients to the plants. These additions don't last forever, though, so be prepared to add your own amendments should the need arise.
Container Amendments
For a hands-on approach, you can mix or modify your own basic potting soil. These amendments can make a mix even more suitable for a variety of plants. Add perlite, vermiculite or sand to help water drain freely away from the roots of cacti, succulents and other plants that like drier conditions. Mix in peat and polymers to keep the soil moist for a longer time. This is especially useful for hanging baskets that require more watering. Add lime for plants that prefer a high pH, or peat for acid-loving plants.
Now you're ready to plant more containers that have the right formula from the bottom up.