FLY CONTROL
Protect your horses from biting insects
By Heather Smith Thomas
Photography from iStockPhoto.com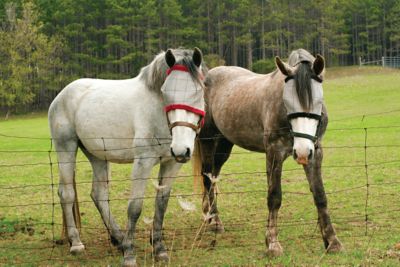 Biting insects not only are tremendously irritating to your horse during warm months, but some are capable of spreading diseases such as West Nile virus, eastern and western equine encephalomyelitis, and equine infectious anemia. You can control some types of fly populations around your place, but it's just as important to protect the horses themselves to keep the flies and mosquitoes from biting them. Several strategies can help, including sprays and wipe-on products applied to the horse, physical barriers such as fly masks and fly sheets, and also jiggling fringe on bridles or other tack to deter flies from landing on your horse. Keep in mind that the horse's whole body needs protection, including legs and belly, because various types of flies prefer different areas.
The horse's lower legs don't retain insecticides very long. Even though a spray or wipe-on tends to bond to the hair and is not easily rubbed off, it can be washed off. Every time it rains, or the horse walks through wet grass or water, stands in a pond to protect himself from flies, or sweat runs down the legs after a workout, it washes off. You may need to reapply a product sooner than the label recommends. If biting midges — a family of small flies more commonly known as punkies or no-see-ums — are making horses itchy, these tiny flies can be killed with diligent application of insecticide, but repellent is actually better—to keep them from landing in the first place.
Midges often bite along the midline under the belly and create a crusty, itchy area. It's essential to apply repellent all along the belly, and reapply it if the horse has walked through tall grass, stands in a pond, or sweats. Stable flies are hard to kill because they don't spend much time on the animal and often don't pick up enough insecticide to kill them. They zoom in, feed quickly, and fly away. For that reason, some horse owners use special fly sheets — lightweight material that covers a horse from shoulders to hindquarters — that have been treated with insecticide.Repellency of treated fly sheets remains effective for the entire summer and sometimes longer.
Fly masks keep insects away from the horse's eyes. Some styles have extended noses or mesh ear coverings to offer maximum coverage for the horse's head. Fly boots, made of mesh and soft fleece, can protect the lower legs. Your horse will be more comfortable — and safer from some diseases — during the summer if you give him help against the pesky flies. ★
Idaho rancher Heather Smith Thomas has written several books