Horse-Drawn History
By Noble Sprayberry
Photography by Cliff Jette
When Dan Bussey's grandfather decided to stop working the family farm outside Edgerton, Wis., in the mid-1960s, a machine shed became the place to store a former staple of Northern farm life — the original family sleigh.
"Years later, my parents noticed the barn roof was starting to sag and they thought they might need to move the sleigh," Bussey says. "I agreed to help them get it out of the barn. Chickens had roosted on it for years, and it was duly sprinkled. Within three days after we moved the sleigh, the barn collapsed."
That first up-close experience with a sleigh shaped the next four decades of his life. He became a collector of horse-drawn vehicles. His collection totals 115 items, including about 60 sleighs.
There are historic pieces, oddities, wagons, grand carriages, and many stories. Bussey, a board member for the Carriage Museum of American in Lexington, Ky., considers the tale behind each item important.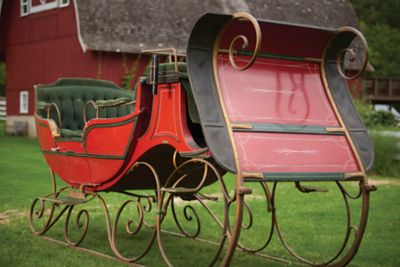 Building A Collection
For more than 35 years, Bussey worked in his family's company, which leased appliances to businesses. He sold the business in 2009, and for the last six years, he has lived in Decorah, Iowa, working as orchard manager and apple historian for the Seed Savers Exchange. The organization is devoted to protecting, growing, and sharing heirloom plants and seeds.
Over the years, his love of history went along with his love for collecting.
"I met a carriage dealer and we struck up a friendship. We'd buy things together, or he'd find things at auction and tell me about them. I collected a lot of different vehicles, nothing fancy, but sleighs were always the things that really spoke to me."
For Bussey, sleighs are a reminder of how people lived in a time when horse-drawn vehicles were the vital form of transportation."For any town built before 1900, the infrastructure was created by horse and wagon," he says. "And that's from one end of the country to the other."
Particularly in the snowy Northern states, sleighs were critical, although their use did not come without the possibility of adventure.
"My grandfather went into town all the time, and he always told me it was not an eventful trip unless they tipped the sleigh over at least once," Bussey says. "The problem with sleighs is that they'd run up into the drifts and one runner would sink in and it would flip. Then, you'd have a problem."
But busy roads were groomed to make sleigh travel easier, and people adapted to a time before streetlights.
"One of the things about sleighs is that they are quiet," Bussey says. "Sleigh bells, most people think they are just romantic. But they were really a safety measure. You needed them to let others know someone else was in the area."
Embracing History
His collection reflects the creativity and culture of the days when horses, not gas-powered engines, kept people moving.
"I've got a mail sleigh, what the postal service would have used for rural delivery. The fun thing about it is that it's no bigger than a tiny closet, but it's got a wood-burning stove," he says. "They put some metal sheets in there to keep it from burning up because the sleigh is made from wood and canvas."
A rare piece in Bussey's collection is a sleigh used in Newfoundland, Canada.
"It was the taxi of its day, and it was the only place they were particularly used," he says. "There aren't many that survived."
Much of Bussey's collection remains stored in Wisconsin, but that does not mean no one sees it. He often takes sleighs to festivals or antique show, just to remind people about times gone by.
For him, the stories behind each piece matter. "It's as much where it came from and who used it, as opposed to the artifact itself," Bussey says. And he wants others to appreciate that history. "I just don't want," he says, "this stuff to be forgotten."