MOLTING SEASON
Provide the right nutrition as your hens grow new feathers
By Rachel Hurd Anger
Photography by iStockPhoto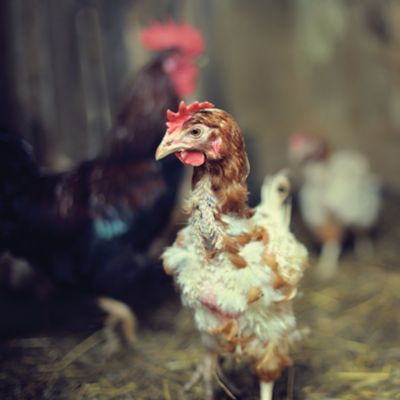 During the annual molt, usually in the fall, hens shed their tired, worn feathers, and divert dietary protein from egg production to produce a fresh set of feathers. New feathers will keep the flock warm through the coming winter. For most chicken keepers, the immediate concern with molting is the sudden loss of egg production. For new chicken keepers, the comfort of the hens can also be worrisome.
Providing high-quality nutrition during the molt is crucial because adequate dietary protein directly affects the quality of new feathers as they form. Through the annual molt, support feather regrowth easily by providing high-quality feed rations, eliminating junk foods, and promoting natural chicken behaviors.
OFFER QUALITY FEED
Commercial chicken feed is scientifically formulated to support a flock's dietary needs. Layer feeds containing 16 percent and 18 percent protein provide all the protein that hens need, in addition to essential vitamins and minerals, particularly calcium, for strong eggshells. Feeds containing 22 percent or 24 percent protein are intended for rapid muscle growth in meat chickens, and will not provide adequate nutrition for laying hens, even during the molt. While all layer feeds are nutritionally optimal, some are higher quality than others. If the flock avoids one feed, or a feed has an unappealing odor, try another brand. Chickens should enjoy their feed.
NIX THE SCRATCH
Extra nutritional support is easy to achieve by simply eliminating junk food. Chicken scratch is great for cold winter months when fed right before roosting — it allows chickens to generate heat through the night — but during the rest of the year, scratch is a major source of empty calories and does not support feathering as much as quality feed will. Given a choice, chickens will eat scratch before they will touch their feed rations, and they will eat their feed before foraging for a natural diet. Eliminating chicken scratch during molting is the easiest way to maintain a balanced diet.
ENCOURAGE NATURAL BEHAVIORS
Chickens are omnivores. While they can certainly thrive on a vegetarian diet, it's neither in their nature nor their choice. Given the opportunity, free-ranging flocks will launch into the air for bees, play keep-away with a dead frog, and swallow small mice whole. These natural behaviors provide dietary protein, and a quality of life that nutritionally optimal feed can't fulfill.
During the fall molt when insect populations wane, put the flock to work foraging through leaf piles, or turning the compost. Give the contents a few healthy turns and set the birds to task to fill their crops with protein-packed snacks. When loss of egg production is a major concern, help maintain a steady stream of eggs through every fall season by diversifying the flock with various breeds. Lighter breeds tend to molt earlier in fall, while very heavy breeds molt much later. Even though the molting will overlap, a bounty of eggs will continue through the season. ★
Rachel Hurd Anger is a writer raising chickens in Kentucky.