Treating Internal Parasites | Summer 2015 Out Here Magazine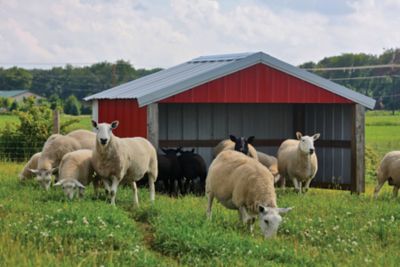 Photography by iStock
Internal parasites cause damage to sheep and goats that, if left untreated, can be fatal.
Parasites grow and reproduce in certain environments and sheep and goats that live in those environments are at high risk of becoming infested.
For example:
Lung worms and liver flukes grow and reproduce inside snails, which live in stagnant water. Sheep and goats with access to stagnant water are at risk of being infested by these parasites.
The eggs and larvae of stomach worms are commonly found on wet vegetation, such as dewy grass. Larvae move up the grass where they are eaten by sheep or goats.
Coccidia commonly live on the ground, particularly when animals are overcrowded, and mostly affects the intestinal system of young animals with still-developing immune defenses.
Dewormers can treat internal parasites, but it's important to note that all dewormers are not effective against all parasites. Plus, some dewormers that once were effective against a specific parasite are no longer effective because they've developed resistance to the medication.
Therefore, just because you apply a dewormer doesn't mean you've killed the worms; you have to be sure to use the right dewormer for your specific situation.
Sheep and goats have a much higher metabolism rate than cattle. Consequently, drug dosages will likely be higher than those listed for cattle.
Treat the animal based on the degree of infestation or the "worm burden." When the burden is high, killing all parasites at once can create more problems, such as plugging the digestive tract with dead worms. In these cases, it may be preferable to treat with lower doses at frequent intervals.
Consult with your veterinarian about the best option for your specific circumstances.
Some dewormers can be given orally or by injection. Generally, injected dewormers intended for treating gastrointestinal parasites take longer to take effect than oral medications and last longer at low concentrations.
This long action at low concentrations is considered to induce resistance. However, given your specific circumstances, your animals may respond better to injectable rather than oral dewormers.
Affected animals should be separated from unaffected animals during treatment and should be moved into an area that can easily be cleaned and disinfected.
After treating affected sheep or goats, wait three to four weeks and retest to determine whether the treatment was effective. Animals that still have high burdens after treatment should be retreated and then retested three to four weeks later.
Sheep and goats that still have high burdens after a second treatment are likely to be very susceptible and can act as carriers for parasites, infecting other animals in the flock or herd.
These animals should be culled to avoid repeatedly infesting the healthy livestock.
Treating parasites includes preventing parasites. Here's how:
Provide a clean environment — beginning at birth — and avoiding overcrowding of pens or premises.
Supply balanced nutrition to keep animals healthy and help them develop appropriate resistance, especially for dams before and after lambing/kidding.
Avoid pasturing in damp areas and during early morning and evening hours when dew is present.
Rotate pastures to avoid high burdens of parasites.
Select animals from bloodlines that show low worm burdens.
A. Villarroel is a veterinarian with the Oregon State University Extension Service.