Growing Fall Spinach | Fall 2015 Out Here Magazine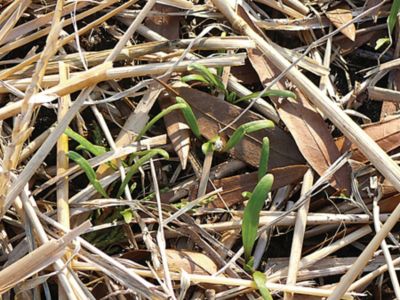 Plant now to enjoy cold-hardy goodness through spring
Story and photography by Theresa Martz
Thinking of planting a fall garden? Don't forget to include the spinach.
Spinach is at its best in cool weather, because colder temperatures bring up the sugar in the plant, making the leaves extra delicious.
Planting spinach into fall will allow you to enjoy eating it into early spring.
Start spinach in early- to mid-August to give it ample time for good growth before your first frost.
But if you're late into the fall getting started, don't let that stop you from planting. Although you won't be eating spinach before frost when you plant late, the seedlings will put down roots and with a bit of protection — especially in colder areas — will give you spinach much earlier than anything you plant next spring.
Spinach is cold-hardy and can survive frost and temperatures down to about 15 degrees F. In areas of the country with severe winters it still can be enjoyed through the winter if the plants are under the shelter of a cold frame or hoop tunnel.
The main concerns from gardeners about spinach is spotty germination and the length of time it takes to germinate. Both of these problems easily can be avoided by giving spinach a cool place to germinate.
The ideal soil temperature for spinach to germinate is 50 to 60 degrees. If weather in August is hot and your soil temperatures, even in shaded areas of your garden, are warm, start your spinach inside to provide the conditions it prefers.
Inside, your seed starter mix probably will be closer to ideal temperatures. If not, try placing the planting tray on a towel laid over an ice pack. You'll have to refresh the ice pack, of course, as it thaws and its temperature rises.
Transplant your seedlings into good garden soil that has lots of organic matter in it.