Bridging the Gap | Fall 2015 Out Here Magazine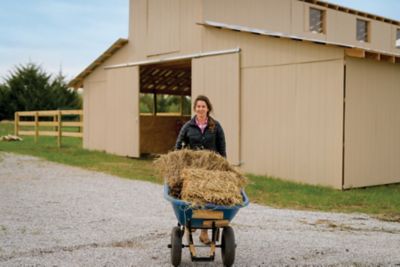 First-generation farmer wants other millennials to join her
By Erin McIntyre
Photography by Steve Puppe
Unlike most young farmers, Hannah Becker didn't grow up feeding livestock, gathering eggs, or doing chores. Instead, she lived in big cities across the South.
But she longed to raise cows and horses, to be around animals, grow her own food, and wear cowboy boots. Her bewildered parents figured she would grow out of her farm obsession.
She didn't. And now, Hannah, 26, can have rabbits and livestock to her heart's content, at Willow Springs Farm, where she and her husband, Jeremy, are building a life she only dreamed of as a child.
The couple is acquiring cows for their first herd, the beginning of their very own grass-fed beef business in the Flint Hills of Kansas, outside Williamsburg.
It's the realization of a dream Hannah has had for decades: to be a first-generation farmer. But there's more to it now: she wants to encourage other young people to become first-generation farmers, as well, despite the roadblocks of which she's all too familiar.
Hannah started preparing for this business venture in college, where she earned a degree in Animal & Dairy Science and, surprisingly, was discouraged from entering agriculture by some of her professors.
"The majority of young farmers that I knew had an inheritance," Hannah says. "They were going to carry the torch for the family. My professors would just keep telling me, 'You can't do this if you don't have an inheritance,' but I was hardheaded so I did it anyway."
After graduating, she applied for grants and loans to start her agricultural business, and was systematically turned away. She was 22, had a farmstand selling vegetables she grew on rented acreage, and waited tables to make ends meet.
"They just laughed at me," she says.
She's come a long way in the four years since. She was one of the first women recognized as a Master Cattle Producer, she earned a master's of business administration, and she wrote the book, The Motivated Millennial: An Entrepreneurial Guidebook for Generation Y.
Millennials are also known as Generation Y, and generally reached adulthood around the year 2000. Some of Hannah's motivation comes from showing that she and others in her generation can step up to the challenge of being innovators in the 21st century of agriculture business, particularly because farmers are aging.
The average farmer's age is older than 56 now, according to the USDA's Agricultural Census released in 2012. Less than 10 percent of the nation's farm operators are 44 or younger, prompting Hannah and others to ask, who will take on the task of feeding the nation as the agricultural population continues to age?
Part of her purpose? To bridge the gap between older and younger farm producers and help foster the transfer of knowledge between generations.
In the meantime, Hannah and Jeremy have climbed a steep learning curve, conquering years of discouragement and months of backbreaking labor as they transform an abandoned property into their dream farm.
The hard work doesn't deter either Hannah or Jeremy, who grew up on a Mississippi delta farm. They know that building barns and clearing acres of trees and brush is only the beginning.
Erin McIntyre writes from Western Colorado.