American Mammoth Jackstock | Winter 2014 Out Here Magazine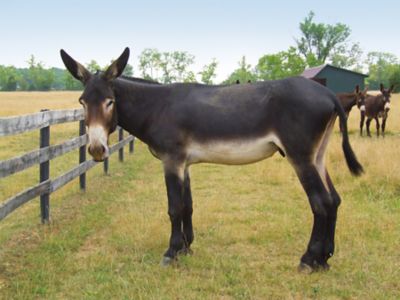 Rare breed is smart, friendly, and works like no other
Story and photography by Jeannette Beranger
Not many livestock breeds can link their origin with the vision of a U.S. president, but the American Mammoth Jackstock can. George Washington understood that the growth of the new country would be dependent on using superior draft animals such as the fine working mules of Europe. At the time, though, America did not posses large donkeys needed to create such desirable animals.
During Washington's presidency, the King of Spain gifted him with an Andalusian jack (a male donkey) along with two jennets (female donkeys) of the same breed. Shortly, Washington's longtime friend, the Marquis de Lafayette, sent him a jack and two jennets from the Isle of Malta. Washington bred the Maltese jack with one of the Andalusian jennets and produced a fine breeding jack he named "Compound."
When he bred this animal to horses, the outcome was exceptional animals that were superior in their working abilities and endurance, compared to oxen or horses. By the time of Washington's death, mules produced by "Compound" sold for about $200 each — nearly $3,000 in today's dollars. Washington's work with breeding mules created interest, especially in southern states such as Virginia, Kentucky, and Tennessee. Large donkeys regularly were imported from Europe during the 1800s.
Breeders crossbred the strains, selecting for size, soundness, and strength, eventually resulting in the American Mammoth Jackstock breed. Mammoth Jacks are tall and sturdy, with substantially thick legs and large, well-made massive heads. Their ears are one of their outstanding trademarks often measuring 33 inches from tip to tip.
At one time in the early 20th century, the breed numbered about 5 million in the United States. But as agriculture became more dependent on mechanized farm tools, the mule slowly lost favor on the American farm. Now, with less than 1,000 annual registrations for the breed, American Jackstocks are listed as "Threatened" on The Livestock Conservancy's Conservation Priority List. The conservancy uses this list to bring attention to livestock, such as the American Jackstock, to connect them with people interested in saving a rare breed.
Dwite and Mary Sharp of Council Grove, Kan., have Mammoth Jackstocks for trail riding and packing tours at their Paradise Ranch Adventures. They got their first Mammoth Jackstock, a pregnant jennet, 12 years ago as a guardian donkey for their goat herd. When the jennet's foal, named Chloe, was old enough, Dwite hired noted horseman Frank Buchman to train her for riding.
After completing her training, Buchman offered Chloe the highest of praise. "A cowboy dreams of having one truly great horse in a lifetime. Although she's not a horse, she's your one amazing mount of a lifetime," Dwite recalls Buchman telling him.
Today, because of their personality and intelligence, six Mammoth Jackstocks make their home at Paradise Ranch. "The greatest gift the donkey provides its rider is common sense," Dwite says. "If the animal trusts you and decides to refuse to do something for you, take a good look around because it's probably seeing a danger you don't. A good donkey will take care of its rider." Today, the Sharps' grandchildren still ride Chloe, and she's takes very good care of them on the trail.


LEARN MORE ABOUT MAMMOTH JACKSTOCKS
Visit these websites:
The Livestock Conservancy at livestockconservancy.org and the American Mammoth Jackstock Registry at amjr.us
Jeannette Beranger is Research & Technical Programs Manager for The Livestock Conservancy.