Canning Tomatoes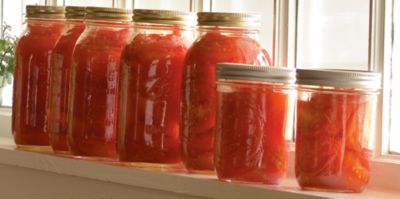 Enjoy your garden's bounty throughout the year
Photography by Mark Mosrie
First, assemble the following:
1 bushel of freshly picked tomatoes (will yield 21 to 24 quarts)
A water bath canner that holds 7 quart jars
Several large pans, such as a roaster and an 8-quart or larger pot
Canning jars with rings and new lids
Tongs
Jar lifter
Clean white cloth for wiping tops of filled jars
Net bag (You can make your own by cutting net about 20 inches long by 26 inches wide. Fold down the center and sew down one side and across the bottom. This makes a 20-inch long by 13-inch wide net bag.)
Clean dish towels and pot holders
Canning salt (do not use iodized salt)
After all the work you put into your garden, you don't want any of it to go to waste. Sharing is nice, but when your neighbors run the other way when you arrive on their doorstep bearing zucchini or yet another bushel of pole beans, it might be time to think about preserving your garden produce by home canning it.
Preserving your own food reduces exposure to chemicals, pesticides, and preservatives, and, if you preserve foods at their peak of ripeness, they provide better nutritional advantage.
Safety is imperative, however, in home canning because if sterilizing, heating, and sealing aren't done correctly, bacteria such as botulism can cause deadly food poisoning.
For first-time canners, tomatoes are a good vegetable to begin with, because their naturally high acidity prevents the growth of dangerous bacteria, and they're easy to can, particularly by the water bath method.
As you become more comfortable and knowledgeable with the canning process, you may choose to can all kinds of fruits and vegetables: pears, peaches, beans, pickles, corn, and much more.
Step by Step:
Wash jars, rings, and lids in hot, soapy water. Sterilize jars by placing three or four at a time in a large pot of boiling water for three minutes. Carefully lift out with tongs and a potholder. Set upside down on clean dish towels.
Place about a peck of tomatoes (about 1/4 bushel) in the sink and wash off dust and dirt.
Put about 10 tomatoes into the net bag. Dip into an 8-quart pot of boiling water, scalding for 25 seconds. Lift out and deposit tomatoes in one side of your clean kitchen sink, or in a large pan. Continue this process until all tomatoes are scalded.
Slip skins off and cut the cores from tomatoes. Cut into quarters. Turn jars over and pour in

½

teaspoon of salt per jar. Lightly pack the tomatoes into the jars, leaving

½

inch of space at the top, to accommodate the juice that the tomatoes will make during processing.
Using a clean wet cloth, wipe the rim and threads of the jars completely clean of tomato residue, and dry the jar top with a dry paper towel.
Place new lids, seven at a time, in a pan of boiling that has been brought to a boil. Reduce heat. Do not boil lids but let them sit in the hot water for three minutes (Check your lid package for instructions on that particular brand).
Using tongs, center the hot lid on a jar with sealing compound next to the jar top. Screw the band, or rim, evenly and very firmly on the jar.
Place jars in the canner filled just to the neck of the jars with hot tap water. Turn stove on to medium-high. When the water reaches a rolling boil, turn the burner down to medium and begin to mark the processing time. Process for 35 minutes (For higher altitudes, the Kerr canning book recommends adding two minutes to the processing time for every 1,000 feet above sea level).

When processing time is complete, remove jars with a jar lifter and place them upright on a dish towel. Do not place hot jars in a draft or on a cold, wet surface. Do not tighten lids until jars are cooled and ready for storage.
IMPORTANT: Listen for the popping sound of the lids, which means your jar has sealed. That's crucial, because tight seals keep liquid in and air and bacteria out. After the jars have completely cooled, check the lids by pressing down on them with your thumb. If there is no "give" or vacant space, then your jar is sealed. If, however, when you press down and the lid moves up and down, then the lid did not seal, and you must put that jar in your refrigerator and use those tomatoes first.
Finally, store the canned tomatoes in your pantry and enjoy looking at your handiwork.
Ruby Hill Davis has been canning tomatoes in the Grand Valley of Colorado for more than 50 years.
Ruby's Canning Tips
It's easier to work with and prepare enough tomatoes for just one seven-quart canner at a time, especially if you are a novice at canning.
Never reuse your lids for future canning. Always buy new lids to ensure a complete seal. You may, however, reuse the rings or bands.
Set a timer for processing time.
You'll have less cleanup if you set your empty jar in a round cake pan as you pack your tomatoes.
Select very fresh tomatoes, just picked, if possible. If you choose low-acid tomatoes, you must add 2 tablespoons of vinegar in each quart jar. This will give the proper acidity for the tomatoes (Inquire where you purchase the tomatoes if they are low acid or regular).