Caring For The Caregiver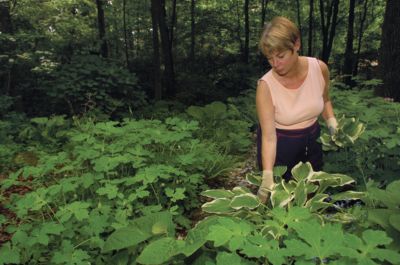 When Barbara McVicker, primary caregiver to her elderly parents, realized she was approaching burnout, she took time for the things she enjoys, such as working in her backyard garden.
By Bethanne Black
Photography by Bill Cannon
When Barbara McVicker's elderly parents needed a caregiver, that responsibility fell primarily to her for more than 10 years because she lived close by in Columbus, Ohio.
"My father died of old age and respiratory failure at age 91, and my mother died of complications from a fall," says McVicker, now 58. "The stress that I felt while providing care impacted me physically, financially, emotionally, and socially."
That's common, says Maya Hennessey, author and state representative for the Illinois Caregiver Community Action Network. "In most cases one person bears the brunt of caregiving and that person's life is placed on hold."
Dedication of caregivers who focus on their loved ones' needs to the exclusion of their own is admirable, but most don't realize that they're setting themselves up for anger, depression, burnout, and bad health.
"Studies show that the immune system of caregivers is negatively affected," Hennessey says. "As the patient declines, so does the caregiver's immune system."
She offers these strategies for caregiver coping:
Don't wait to get help. As soon as caregiving begins, or if it's on the horizon, reach for help immediately. Support groups provide contact with others in the same situation, either in person, online, or by telephone for those housebound or in rural areas. "Wonderful ideas are shared and connections to services that the new caregiver might not otherwise learn about happen through these groups," Hennessey says.
Contact places such as the National Family Caregivers Association (caregiveraction.org) to learn what resources are available in your area. Groups that deal with specific conditions, such as Alzheimer's, diabetes, or cancer can direct caregivers to a full range of help, including funding, home health care, and respite care.
Shift heavy issues first. Identify the most burdensome tasks and shift them to others. "One caregiver said that although she loves her husband, she feels guilty because she doesn't like to listen to him talk about his symptoms," Hennessey says. "She needed someone else to have those conversations with him. She preferred to handle insurance claims and other issues."
Keep a task list handy. When someone offers to help, have a list ready that includes your most pressing needs, allowing your helpers to perform jobs that suit their schedules and abilities.
Be selective when seeking counseling. Seek help from professionals who are flexible about canceled appointments. Find out if the counselor will conduct telephone sessions if a medical emergency arises.
Provide helpers with the information they need. When someone offers to do research or locate services, arm them with information, such as insurance data or the time of day that you can be reached.
Take care of yourself. Recognize signs that indicate that you've been pushed beyond your usual stress level and attend to these stressors immediately.
Maintain perspective. Some caregivers lose sight of the talents, resources, and goals that were once the fabric of their lives. Focus on the qualities that make you unique, and take time to restore your life.
McVicker realized that she was burning out, which forced her to re-evaluate and regain control of her life.
So she did something positive for herself every day. She gave herself permission to not visit her parents daily. And she accepted help when others offered it, which gave her time to exercise regularly and enjoy her life.
Bethanne Black, of Atlanta, is a freelance journalist who specializes in health care.