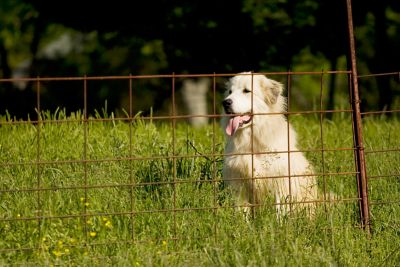 Raising Guardian Dog Breeds
A guardian dog's primary role is to care for its livestock. Whether sheep, goats or cattle, guardian dogs understand their herd and know how to keep it safe from predators. Having a guardian dog as part of your farm family lets you rest well at night, knowing it will sound an alarm and spring into action the moment it senses danger. Raising your guardian dog properly is key to producing a top-notch protector. The following tips will help get you started:
Buy From a Working Pair
Buying a puppy that's the offspring of a working pair of dogs, and preferably ones who are working with the same type livestock your puppy will work with, is the best way to begin raising a guardian. Whether the puppy is purebred or a cross between two guardian breeds, knowing it comes from intelligent stock who do their job well increases the likelihood that your guardian will adapt well to its new role on your farm. Never buy a guardian that is a cross between a guardian dog and a non-guardian.
Place Your Puppy with Its Livestock
The period of bonding between a guardian dog and the livestock it will protect takes place best when the puppy is between eight and 16 weeks of age. It's important for your puppy to bond with and feel comfortable around the animals it will guard. The relationship between the guardian dog and the livestock grows naturally as the puppy learns to feel responsible for the animals in its care.
Use a Bonding Pen
Bonding pens can be useful during the bonding process. Create a protected area for puppy within a pen, and place a few gentle ewes or cows in the pen. The puppy can watch from its protected place and go in and out as it grows comfortable around its new surroundings. Secure the puppy in the pen often so it can have some quiet time to simply watch its small herd and begin to learn their habits.
Feed Puppy Away from Your House
Your new guardian puppy must get used to being with its livestock as it grows, and that includes meal time. If you feed your puppy in your house, it will want to be near the food source and you all the time. Just make sure the puppy's food is out of reach of the livestock so it can eat easily and not feel the need to guard its bowl.
Raising a guardian dog properly is an investment of time that will pay big dividends in the end. Tractor Supply Co has everything you need to get your guardian puppy off to a great start. Check out our full line of kennels, crates, food, collars and more.