Dairy Gets New Life by Adding Value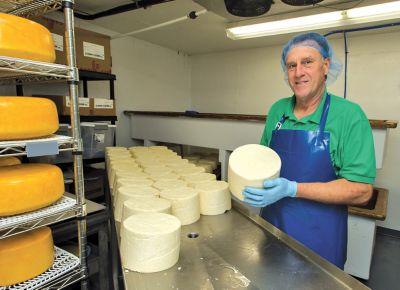 Ken Mattingly and his family have realized their vision of farm-made cheeses.
By Casey Kelly-Barton
Photography by Mark Mosrie
Kenny's Farmhouse Cheese probably wouldn't exist had its founder followed conventional wisdom. Kenny Mattingly came to farming as a young adult during a troubled time for agriculture, pulled his family farm back from the edge of financial failure, and learned to make cheese by trial and error.
Today, Kenny's Farmhouse Cheese's award-winning Goudas, bleus, and other cheeses are sold regionally and online to consumers, restaurants, wineries, and grocers —a testament to Mattingly's persistence and to the quality of the cheeses his family makes on their Kentucky farm.
Mattingly was 19 when his family moved from the Indianapolis region to a Barren County, Ky., dairy farm in 1976. After a stint working in the city, Mattingly returned to his parents' farm in the mid-1980s — a period when small farmers across the United States, including the Mattinglys, faced economic crisis.
"Dad just said, 'I can't afford to hire you back,'" Mattingly recalls.
He took a job with a community farm organization funded in part by Farm Aid and spent his workdays talking with Kentucky farmers about the issues they faced and lobbying state and federal lawmakers — all the while hoping to make a go of full-time farming.
A New Perspective
Mattingly went to Europe in 1990 with a dozen farmers and ranchers to see how European farmers were running their businesses.
"We started in Holland, at a small farm that made Gouda cheese and buttermilk. The farmers were a young couple with about 30 cows, and they seemed so happy making this finished, value-added product and selling it to the local community."
It was Mattingly's first up-close look at such a farming model.
"I was kind of mesmerized," he recalls.
He was riveted by the group's tour of East German farms — but in a different way.
"We saw what Communism had done. It eliminated the family farm and industrialized the food system, and the end result was poor food and lack of it."
Mattingly thought this was unsettlingly similar to what U.S. farmers were hearing at the time.
"We were being told that the only way to survive was to get bigger and produce a lot of one product," he says. "There wasn't much talk about diversification or value-added."
After seeing the difference between Dutch family farms and East German industrial farms, "I came home with this new vision to add value to our milk."
Rebuilding the Business
Doing something different involved eight years of planning, learning, and work. With his spare time and money, Mattingly bought back and rebuilt the herd his father had sold under financial pressure. Restarting the farm's milk production took three years, and Mattingly spent that time transitioning from his farm-advocacy job to full-time farming.
He bought cheese-making equipment in 1994 and stored it in the barns for four years while he paid it off, built capital for a new cheese shop, and gained skills and connections.
His mother, Mary Rose Mattingly, volunteered to be first cheese maker and the woman who had sold them the cheese-making equipment started off Mary Rose and Kenny with a one-day course in making Gouda.
Because southern Kentucky had no cheese-making culture at the time, they connected with small cheese makers in Massachusetts and Canada, read books, and learned from experience.
In 1998, Kenny's Farmhouse Cheese produced its first cheese for market — Mild Gouda, based on the recipe Mattingly learned in Holland. The company makes Mild Gouda today, along with smoked, aged, and bleu Gouda varieties. Over the years, Kenny's has added Asiago, Brie, and Mozzarella to its repertoire as well as Monterey Jacks and Colbys, flavored and aged Cheddars.
Kenny's signature line includes cheeses named for the people who inspired them. Kentucky Rose is named for Mattingly's mother. Ted, a White Cheddar, is named for his grandfather.
As Kenny's Farmhouse Cheese grew in popularity, other people came to the Mattinglys with ideas.
"We have several cheeses that were challenges from customers, chefs, and employees," Mattingly says.
Indeed, the cheese business has allowed the Mattinglys to connect with their customers in ways that they never could before.
"Most farmers don't get to experience that," he says. "They make a commodity product that ships several hundred miles away and they never meet the end user. We get asked a lot of questions about how we farm and we also get their gratitude for producing a good product."
Sustainable Vision
Mattingly and his family have realized their vision of farm-made cheeses. In doing so, they've accomplished another of his long-term goals — strengthening the family farm for his generation and the next.
Mattingly hopes Kenny's Farmhouse Cheese can show other family farms a way to stand the test of time.
"I think there are exciting opportunities for the younger generation," he says.
He speaks from experience.
"My son came back to the farm. If it was a dairy, I don't think he would have been interested. Value-added products and the connection to the consumer give (young people) more socialization along with the agriculture," he says.
"My advice to the older generation is to be open-minded in order to include the younger generation in another phase of your family business," he suggests. "Have discussions: 'How can we add value, and how would you like to be a part of that?'"