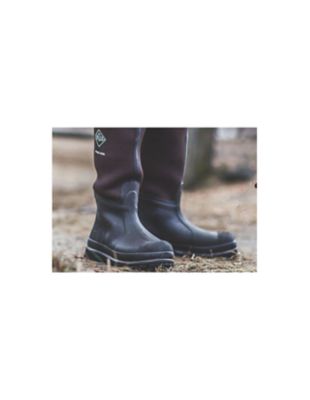 The Benefits of Muck Boots
A good muck boot can handle anything that farm life, hunting or extremely wet weather dishes out. Also known as Wellingtons, the original muck boot was designed after a leather Hessian-style boot worn by Arthur Wellesley, the first Duke of Wellington. Fast forward several 100 years, and Muck Boots brand boots are seen just about everywhere, including livestock pens, horse stalls and even rainy sidewalks in big cities. But what makes Muck Boots so popular, and why should you choose them over other kinds of work boots?
It's in the Fit
The beauty of a well-fitting Muck Boot is that it hugs your foot like a sneaker without needing laces but slides off and on easily when coming in and out from doing farm chores. A properly fitting Muck Boot stays on your foot even when the suction from mud tries to pull it off. That means no matter what you're stepping in, your foot stays warm and dry. To find your perfect Muck Boot fit, stand on a piece of paper at the end of the day, when your foot is at its largest. Your weight should be slightly forward on your foot while keeping it flat. Have a friend draw a line behind your heel and in front of your longest toe. Measure the distance between those two lines, and use that measurement to choose your perfect fit on the Muck Boot size chart. If you're between sizes, go up one for the most comfort.
Rugged and Lightweight
Another thing that makes Muck Boots the perfect choice for all kinds of chores is its rugged exterior. Non-slip soles made of high-abrasion rubber means your foot stays where you put it. The natural rubber overlay on the bootie works like a second skin for the exterior of the boot, making it completely waterproof while maintaining flexibility. This also works as a "neutral medium" between the temperature outside and the temperature inside the boot. This balance keeps your feet warm and dry in all kinds of weather without feeling hot and heavy.
A Boot for All Seasons
Muck Boots come in a variety of styles and weights, depending on what you're doing and where. Basically, Muck Boots will have the right boot option for your needs. Just answer three basic questions: What temperature will it be when you're wearing your boots? What are the boots for? How high do you like your boots to be? Muck Boots have a comfort weighting based on outside temperatures and different soles and heights for different jobs. Muck Boots also come with added features like steel shanks for better arch support, met guard protection from heavy objects, boot liners and scent masking for hunting boots. There is also a snake-proof option for hunters in areas where snakes are common. Essentially, the way you answer the questions will get you the best and most comfortable boot for your unique situation.
Muck Boots are a trusted brand in the mucking boot world, and all boots come with a one-year warranty against factory defects. Most Muck Boot styles are unisex, making it easy to choose the right boot for you. And our kids' boots are perfect for keeping even the smallest feet clean and dry.
Tractor Supply Co. has hundreds of Muck Boot options available for men, women and children. Wherever you step and whatever your stepping in, Muck Boots from Tractor Supply has you covered.