Antique Tractor Club
By Erin McIntyre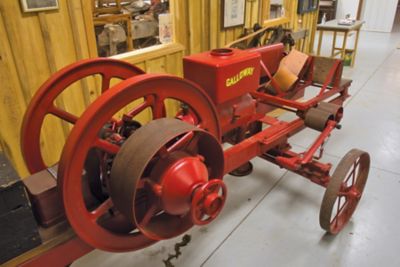 There was a time when things were made to last, and machines helped make life a little bit easier, though the work was still hard. The Farmers Antique Tractor and Engine Association is dedicated to making sure people don't forget this by keeping the traditions and history alive.
A love of machines that last and sharing the old ways of life is what brought this nonprofit together more than 20 years ago, and today visitors to the association's 115-acre farm in Adrian, Mich., can get a taste for the good ol' days.
The association, formed officially in 1982, had been meeting informally for years at coffee shops and milk barns when they decided they wanted their own organization.
"There were a lot of classic automobile clubs at the time, and people started to bring their tractors into the car clubs," says Jim Opersal, the association's president and executive director. "The car clubs didn't really like that."
While tractor clubs existed elsewhere, the locals wanted something closer to home — somewhere they belonged with others who appreciated vintage machines.
Back then, word of the club spread through beauty salons and hardware stores, not on social media. The dues-paying members eventually formed a nonprofit.
Today, the association has about 300 members, mostly from Michigan but also from around the country. Their members range from age 2 to 90-something, proving that people of all ages love tractors.
While some of the members have been driving tractors ever since they could reach the pedals, others grew up in town and want to connect with history. The group is attracting a new wave of machine fanatics who enjoy vintage lawnmowers, because that's what they remember using when they were kids.
Hands-On Learning
The group hosts local elementary school student field trips as well as swap-and-sells where enthusiasts can exchange their machines and parts.